Research
Allometry and Evolution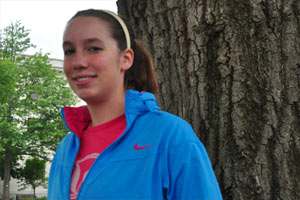 When it comes to new developments in the study of evolution, scientists sometimes have to start out small.
Abigail LaBella, CAS '10, knows this first-hand. The biology major spent her senior year examining allometry—the study of how an organism's limb length relates to its body size—in beetles. 
"This study is trying to establish what controls allometry," LaBella says. "It's a way to look at how, even with evolution, the size of appendages is controlled [by genes]." 
LaBella worked with biology professor David Angelini to determine whether or not there is a link between an organism's insulin receptor pathways and its allometry. Her research paper based on her findings, entitled "Allometry and Insulin: The Insulin Receptor Pathway and Its Contribution to the Development of Allometry in Beetles," shared this year's award for Best Honors Capstone Project. 
An organisms' insulin receptor pathways receive signals from the body that indicate how much food it has consumed. The more food it has consumed, the more cells the body produces. 
"Your limbs are made up of a certain number of cells, so the more you increase this insulin receptor, the more signals you get to increase the limb's size," says LaBella. 
LaBella spent the fall semester writing a preliminary research paper about allometry and learning necessary lab techniques and procedures. In the spring, she began the project full swing. In the lab, she used a small glass needle to inject the larvae of the beetle species Tribolium castaneum with RNA, which "knocked down" the gene that activated the insulin receptor pathway. She then waited 6 to 10 days for each group of larvae to grow into adults, removed their limbs with a tiny pair of forceps, and measured them under a microscope. 
The process was long; LaBella measured 40 to 50 beetles and then spent hours entering the measurements into a computer program. The program graphically demonstrated that the beetles' limbs decreased about 10% in length on average compared to the beetles that weren't injected with the RNA, thus supporting the idea that the gene that activates insulin receptor pathway does indeed have an influence on the beetles' allometry. LaBella speculates that the percentage would be even higher if they eliminated the beetles for which the RNA injection did not work. 
Though LaBella's capstone is finished, she says that the allometry project still isn't done. She and professor Angelini hope to publish a paper after repeating the procedure on about 40 or 50 more beetles to strengthen their statistics. After the beetle study is published, a similar procedure could be done on higher-level organisms, such as mice or, eventually, humans. This information will help scientists further understand the mechanisms of genetics and their relationship to evolution and development.