Social Sciences
MA Candidate Candace Moore on Overcoming and Excelling
One day in 2019, Candace Moore (MA psychology, clinical science track) got on a treadmill at the gym. But instead of running four-to-six miles as usual, she stopped after mile one, extremely fatigued. This marked the beginning of a long battle to manage a rare and debilitating health condition that would change nearly every aspect of her life.
Moore was born with a hemangioma at the base of her spine. It's a condition that typically resolves on its own, but for Moore, it has grown into a tumor half the size of her fist. It is positioned inside her sacral bone, which connects her spine to her pelvis. The tumor has hollowed out her sacrum and placed pressure on nerves, which causes extreme pain and limits her movement. Moore has undergone two surgeries at Johns Hopkins Hospital: the first to block blood flow to the tumor and try to shrink it; the second, to fuse her spine, which required 12 rods and 24 screws to be surgically placed in her back. Moore's care is managed by a team of surgeons, orthopedist oncologists, radiation oncologists, medical oncologists, aqua therapists, and physical therapists, among others. She travels to hospitals several times a week for radiation treatments, therapy, imaging, and follow-up exams.
Breaking Down Barriers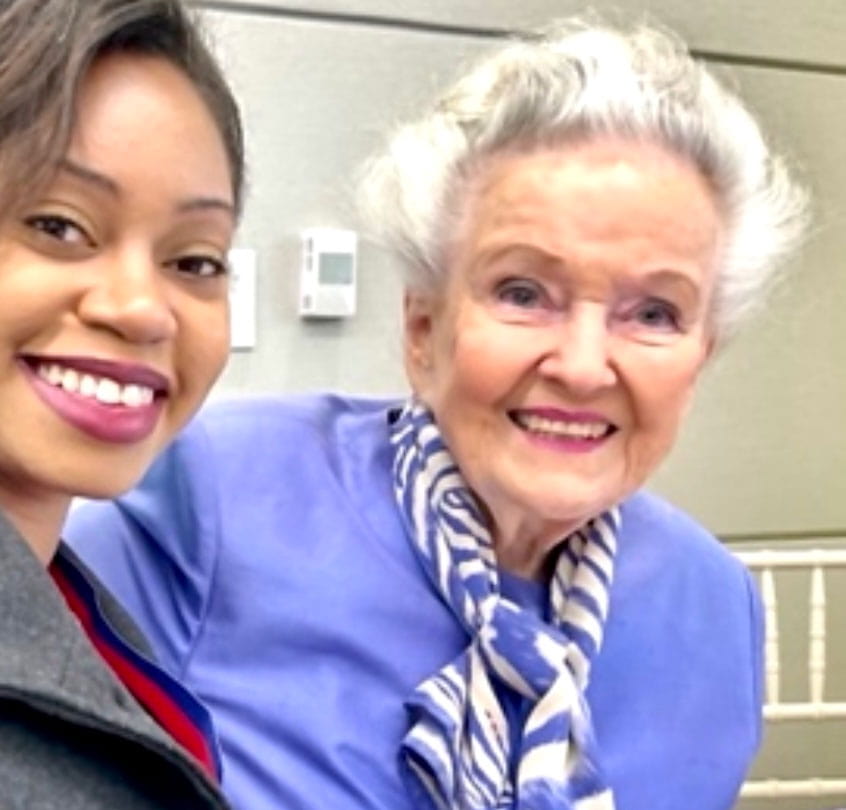 Moore's story is one of perseverance, strength, and determination. Remarkably, through everything, she just completed her first year as an MA candidate in clinical psychology. She is the recipient of AU's Barnard Scholarship, established by John Fiske Barnard, KSB/MBA '59, in memory of his late wife, Lovelle, who benefited greatly from the teachings of AU Professor Emeritus James J. Gray. The Barnard Scholarship is awarded to exceptional students who are struggling to finance their degrees in psychology.
One of the most special things about the Barnard Scholarship process, says Moore, is that she had the opportunity to meet her benefactor, Jan Anderson, at a reception after her arrival at AU. Since then, the women have developed a close relationship. "What a surprise I was in for when I first met Candace," Anderson says. "Such a delightful person! And then I was more and more impressed with how much she had already done with her life, and most of it on her own, with little or no help."
Over the past year, Moore has found many other mentors at AU who believe in her, something she deeply appreciates. "I have dealt with so many obstacles while growing up; many people did not believe in me or think that I would reach the point where I am today. But I am an overcomer who wants to thrive, and not simply survive."
Moore still struggles with financing her medical bills and is fighting for Social Security Disability. She says, "Research has shown that low socio-economic status, non-white women receive disparate access to healthcare and education. In my opinion, a changemaker is someone who breaks down barriers that affect the least amongst us — the same barriers that I have had to overcome with great effort. I want to continue to be in service to others and use the knowledge I have gained from my experiences at AU for this purpose."
Moore's faculty advisor is Professor of Psychology Jonathan Tubman, who completed an NIH-funded project two years ago that examined the reliability and validity of a brief alcohol screener for pediatricians that was developed by the National Institute of Alcohol Abuse and Alcoholism and the American Academy of Pediatrics. Moore is analyzing data from this project for her master's thesis.
"It has been a pleasure to work with Candace," says Tubman. "She graduated with her undergraduate degree, had postbac research training, and is now returning to her studies with a lot of life experiences that have prepared her well for graduate school. She is a non-traditional student who represents the future of graduate education in our nation and our university."
At the Intersection of Research and Clinical Care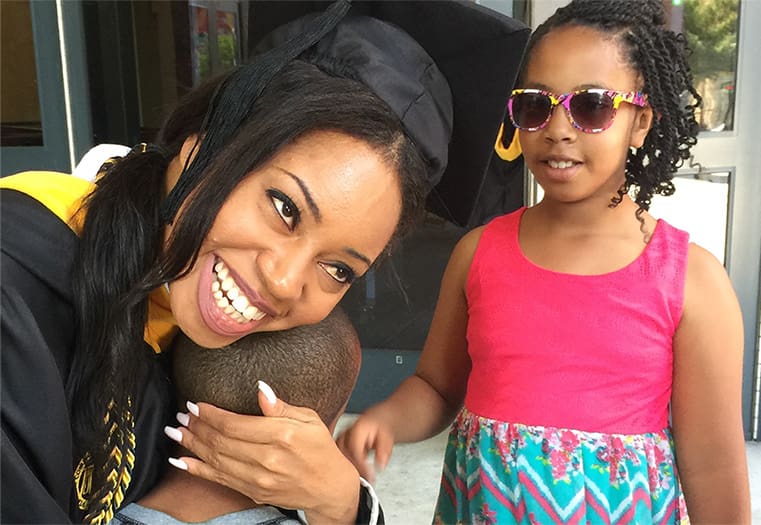 Moore competed her undergraduate degrees at Virginia Commonwealth University (VCU) with a dual BS in psychology and science, with a concentration in health preparation/professional sciences, on a pre-med track. During her studies at VCU, Moore was part of the VCU Initiative for Maximizing Student Development Scholars Program, which provides research training in the biomedical sciences. She was also a National Institutes of Health (NIH) Undergraduate Scholarship Program Scholar, and just two weeks after her graduation, she went to work at the NIH. Her clinical research interests include how biomarkers associate with prognosis in patients with concussion, as well as new assessment techniques to predict traumatic brain injury (TBI) outcomes. While at NIH, under the supervision of Dr. Jessica Gill, she began learning how research can help clinicians find ways to discriminate between diagnoses that have overlapping symptoms, such as TBI, posttraumatic stress disorder, and depression among military veterans, servicemembers, and professional football players.  
Moore has been interested in science and medicine since 2014, volunteering at hospitals and clinics. When she worked at a small medical clinic in Gulfport, Mississippi, she observed firsthand the need for community physicians in rural communities, and she decided to become a physician. But since the diagnosis of her health condition, Moore pivoted slightly. She is now working towards becoming a clinician-researcher, which inspired her to apply to AU for a graduate degree. "Psychology is my heart," she says. "And research is more flexible; I can do it remotely day or night."
Moore's long-term goals include completing her PhD in psychology. Her dream is to establish her own practice offering psychological services on a telehealth platform to reach more individuals, particularly those in rural areas. She is particularly interested in counseling services for students because counseling "saved her life" after her mother passed away when she was an undergrad. And she has a special interest in serving underprivileged young people, especially low-income first-gen students and students with language barriers.
"Candace's resiliency and passion are second to none and very characteristic of many AU students I've interacted with," says Vera Luxner, CAS's director of development. "She champions changemaking, and we can all learn from her."