Technology
CAS and Kogod Students Team Up for Fed Tech Venture AU expands multidisciplinary programs in innovation and biotechnology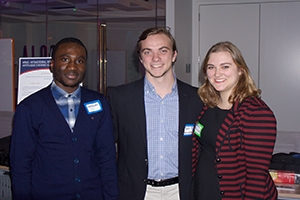 According to a Nielson Breakthrough Innovation Report, two-thirds of new products fail within their first year of business. Now AU is working to ensure that its students will beat these odds and succeed in the marketplace. AU is partnering with FedTech, a federally funded program that matches aspiring entrepreneurs with cutting-edge technologies developed at NASA, the Department of Defense, and other federal laboratories across the country.
Last fall, four College of Arts and Sciences and Kogod School of Business students were selected for the program. The students worked alongside business professionals to bring their innovation skills to fruition.
Alexandra McCargo (MBA '18), Emmanuel Mayegun-Adeola (MS biotechnology '18), Matt Mullin (BS environmental studies '18), and Samantha Hepworth (BSBA business administration '18) were the first AU students selected to take part in AU's partnership with FedTech. For AU, the partnership is part of the university's ongoing initiative to cultivate entrepreneurship and multidisciplinary learning.
Bringing their backgrounds in business and technology together, the AU teams engaged with a FedTech entrepreneurship mentor team to conduct customer discovery interviews and prepare their technologies for the marketplace. At the end of the program, both teams presented a summary of their work at the Booz Allen Hamilton Innovation Center in front of corporate executives.
MAKING LABORATORY RESEARCH READY FOR MARKETPLACE
Graduate students McCargo and Mayegun-Adeola worked together on commercializing a peptide gum developed by the US Army Medical Research and Materiel Command. The gum contains an anti-microbial peptide that kills bacteria, prevents the development of dental plaque, and may reduce periodontal disease. It was originally conceived to deal with the high cost of dental care provided to soldiers. To better commercialize the product, McCargo and Adeola conducted customer interviews with potential consumers, non-profit organizations, and relief agencies, and validated their various hypotheses on the gum's target market.
With a background in microbiology and biomedical engineering, Mayegun-Adeola was eager to explore how business models could be applied to science-based projects. "I have attended and presented at science and technology conferences before, but I felt that more could be achieved apart from being published or receiving standing ovations. I spoke with Dr. Walters-Conte (Director of Masters in Biotechnology and CAS Science Coordinator) about my ambitions, and she was happy to introduce me to FedTech Director Ben Solomon."
In December, McCargo presented the team's findings to Army personnel, scientists, and investors at a FedTech session held at the Army Medical Command Installation at Fort Detrick in Maryland. Walters-Conte and Kogod Entrepreneurship Incubator Co-Director Bill Bellows were among those in the audience. It was a golden opportunity for McCargo. "FedTech gave me a solid foundation in entrepreneurship," she said. "I am continuing to work with our FedTech mentor to commercialize the gum, and I look forward to see what the future holds."
Undergraduates Mullin and Hepworth worked on an audio virtual reality technology first developed by the US Air Force to detect how fighter pilots perceive sound. "We had a technology that could detect someone's personal sound-fingerprint, which could then be used in audio software to greatly improve sound accuracy and quality," explained Mullin. The team conducted interviews across the virtual reality and sound industries, including top executives at HTC and Bose corporations, to better understand the product's market positioning. Last December, Mullin and Hepworth presented their work during an Air Force briefing.
The Air Force was pleased to hear that Hepworth plans to continue developing the technology through AU I-CORPS, a program sponsored by the National Science Foundation and designed to foster science and technology entrepreneurship. "I now own a virtual sound company that is part of the AU Center for Innovation Incubator, and it would not exist without FedTech," said Hepworth.
CREATING STUDENT ENTREPRENEURS
AU's partnership with the FedTech program is a unique way for students to gain hands-on experience with emerging technologies, according to Walters-Conte. "Our students have the opportunity to develop projects and ventures based on truly innovative technologies while learning about the dynamic federal research and scientific funding systems. Through the program, our students are poised to then become successful entrepreneurs and leaders in federal labs," she said. She and Bellows are continuing to bring CAS technology projects and Kogod business practices together for students.
Moving forward, AU's partnership and engagement with the FedTech program continues to expand. This semester, FedTech provided the CAS Biotechnology Entrepreneurship course and Kogod's Management Entrepreneurship program with 16 different technologies to commercialize for the marketplace, as their final projects. Additionally, students will participate in evening cohort sessions with DC research scientists and entrepreneurs that will be hosted by the AU Center of Innovation.
Biotechnology Entrepreneurship Professor Adele Doperalski sees her course as an opportunity for students to develop financial plans to pitch to potential investors. "AU's work with FedTech gives science students a chance to see what it's like to bridge the science and business worlds. The world of biotechnology moves quickly, and these students will know what to do when they develop a novel idea in a lab, said Doperalski.