In the Community
CAS LEAD Students Learn the Power of Giving Back to the Community Students spend weekend volunteering with young adults with disabilities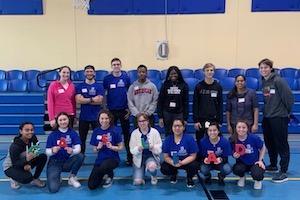 Students in the College of Arts and Sciences Leadership and Ethical Development Program (CAS LEAD) spent the first weekend of February giving back to the local community by volunteering with KEEN (Kids Enjoy Exercise Now), a local nonprofit that pairs volunteer coaches with young people with disabilities.
CAS LEAD members spent time with both children and teenagers, playing sports and just hanging out. The KEEN children have either mental or physical disabilities, and their parents rely on KEEN to help provide exercise for both the body and mind.
"Watching our CAS LEAD students act as coaches and role models for KEEN athletes was a proud moment for me" said CAS LEAD Director Nabina Liebow. "Not only did I recognize the leadership my students were displaying, but it was also clear that the experience reinforced the importance of partnering with and advocating for those in vulnerable situations."
Mentorship Through Exercise
KEEN provides more than 1,300 program hours each month to more than 500 children, teens, and young adults with significant developmental and physical disabilities such as autism, cerebral palsy, and Down syndrome. For many of these children, the time spent with KEEN is the only opportunity they have to improve their developmental and social skills through physical activity. It also gives them a place where they are accepted and find a sense of belonging.
"I feel it's important for children of all ages with disabilities to have a safe space where they can play and interact with others like them and where they can be mentored and coached by volunteers who are excited to be here," says William Bonner, CAS LEAD student in the class of '22.
Bonner sees volunteering as the perfect way for students to get off campus and to start making DC smaller and feel more like home. The KEEN visit was popular with his peers as well, he says, and he hopes it will become a tradition. "I think it's really powerful to volunteer within your community generally, and for a majority of us freshmen, we are just trying to get to know this new community," he says.
The event was also fun, says CAS LEAD student David Tokpah (BS biology and public health '21). "I reconnected with my inner child. Just playing with those kids, I imagined being back in middle school with a scooter and without any worries."
CAS LEAD at AU
The CAS LEAD Program is a four-year certificate program in the College of Arts and Sciences. It is designed to teach students to become effective, ethical leaders and problem solvers by giving them leadership experiences and skills associated with a wide range of academic fields and career paths. CAS LEAD got help connecting with KEEN from AU's Center for Community Engagement and Service (CCES) which connects AU students with service opportunities in the DC area and beyond.
"It was nice to get out of the AU bubble to see parts of DC that I've never seen before and visit communities that I am not familiar with but I hope to connect with further," said Emily Heard (BA psychology '22).