Achievements
Top Stories of 2018 at the College of Arts and Sciences Big year for students, faculty, research, the arts, and campus events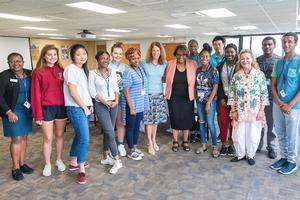 This year, the College of Arts and Sciences welcomed impressive new faculty members, celebrated a banner fellowship and award season for students, received nearly 9,000 art works from the Corcoran Art Collection, launched a new research center, hosted prestigious conferences, and brought a series of nationally-known speakers to campus to discuss art, politics, and more.
Read ahead for a roundup of some of the College's biggest stories of the year!
 
Big Award Season for CAS Students
It was a remarkable spring season for College of Arts and Science students, who were awarded fellowships from some of the country's most prestigious programs. Students received scholarships and research opportunities from more than a dozen programs including the Fulbright Program, the National Science Foundation, and the Amgen Scholars Program.
AU Will Receive 9,000 Works from Corcoran Art Collection
Under one of the largest free art distributions in U.S. history, American University Museum at the Katzen Arts Center has been offered nearly 9,000 works from the Corcoran Art Collection.

"American University Museum is excited about the opportunities to share this rich collection with our students, scholars, the Washington community and beyond," said Jack Rasmussen, director and curator of AU Museum. "This collection will enhance the museum's longstanding commitment to exhibiting works by Washington, national and international artists who hail from diverse backgrounds and encompass many artistic styles and ranges."
Ta-Nehisi Coates and Eve L. Ewing Discuss Devastating Impact of Racism on Schools and Neighborhoods
The first time that best-selling author Ta-Nehisi Coates visited American University, in 2014, it was to talk about his groundbreaking cover story for The Atlantic magazine, "The Case for Reparations." The article sparked a national discussion about reparations to make amends for centuries of discrimination against African Americans.

This year, Coates came back to American University for a different conversation: he sat down with writer and sociologist Eve L. Ewing to discuss racism, the impact of school closings on African-American communities, the importance of black superheroes, and Ewing's new book, Ghosts in the Schoolyard: Racism and School Closings on Chicago's South Side.
New CAS Associate Dean of Research to Focus on Excellence and New Funding
In the past several years, American University has opened the Don Myers Technology and Innovation Building, broken ground on a new Hall of Science, hired prominent new faculty, and established new degrees and concentrations in computer science, data science, information security, and more. At the same time, College of Arts and Sciences faculty have grown their research funding by more than 100 percent, winning nearly 50 awards from the National Institutes of Health and the National Science Foundation.

Research is taking off at American University. As AU focuses on significantly growing its research excellence across the arts, humanities, and sciences, it has named Professor Kim Blankenship as Associate Dean of Research in the College of Arts and Sciences. In her new role, Blankenship will work to increase the amount of externally funded research at AU and enhance the university's reputation for exciting, cutting-edge research.
Ibram Kendi and Allan Lichtman Discuss the Election and the Struggle over Voting Rights
During this year's election season, state officials from Georgia to North Dakota to Kansas were under fire for alleged voter suppression tactics. While Republicans say these measures curtail voter fraud, Democrats call them thinly veiled attempts to decrease minority and youth turnout.

American University professors Ibram X. Kendi and Allan J. Lichtman came together to discuss voting, elections, race, and citizenship in the US. Lichtman recently published The Embattled Vote in America: From the Founding to the Present, arguing that Americans were denied a constitutional right to vote. Kendi, who wrote the award-winning book Stamped from the Beginning: The Definitive History of Racist Ideas in America, spoke with authority on the racial dynamics of voting rights. Both professors criticized voter suppression efforts, while emphasizing that these tactics—now subtler and more sophisticated—have existed since the country's founding.
New AU Institute a Hub for Space Science and Technology
The Washington, DC, metropolitan area is home to some of the world's leading institutions dedicated to space science and technology, including NASA headquarters and the Goddard Space Flight Center, along with other government and industry labs and offices located throughout the region.

To take advantage of AU's unique location at the center of all this activity, the university launched the Institute for Integrated Space Science and Technology (ISSTI). ISSTI is supporting exciting interdisciplinary projects at the cutting edge of science and technology, providing STEM education opportunities for AU students, and attracting external research grants and funding.
CAS Welcomes New Faculty: High-Impact Research, Diverse Perspectives
This fall, eight new tenure-line professors joined the College of Arts and Sciences at American University. With research and teaching expertise ranging from extreme-scale computing to the role of religion in marginalized communities, these new appointments bring diverse perspectives to the College.

"We are excited to welcome our new faculty members," says College of Arts and Sciences Dean Peter Starr. "This impressive group of academics is engaged in high-impact research and scholarship that furthers the College's commitment to excellence and creates a vibrant learning environment for our students."
Ballet Star Julie Kent Inspires Audience at AU
For 30 years, Julie Kent graced the stage of the American Ballet Theatre. She was world-renowned for her dramatic and graceful starring performances in Sleeping Beauty, Swan Lake, Giselle, Romeo and Juliet, and more than 100 other ballets. In 2016, she took on the role of artistic director at The Washington Ballet, DC's world-class dance company.

This September, nearly 200 people gathered at American University's Abramson Family Recital Hall to hear Kent speak about artistic expression, the DC performing arts scene, motherhood, the importance of character, and leadership in the arts.
AU Receives $5 Million Gift to Advance Sciences
American University announced on September 6 that Board of Trustees member Gary Abramson, SPA/BA '68, and his wife Pennie Abramson have made a generous $5 million gift to begin construction of the new Hall of Science. This significant philanthropic commitment will advance the sciences at AU and signals the beginning of a new era of momentum in philanthropy to reach AU's ambitious goals.

The Hall of Science will serve as a catalyst for discovery and a groundbreaking space for the university's community of award-winning scientists and students to address key issues such as climate change, cancer, obesity, and dementia.
Prestigious Gender Equality Econ Conference at AU
This November, American University hosted its 2018 Pathways to Gender Equality Conference. Dr. Janet Yellen, an economist with the Brookings Institution and a former chair of the Federal Reserve System, spoke with other distinguished experts, addressing the marginalization of certain groups in economic research and proposing ways for stakeholders to better address those disparities in their work.

"At this moment, with so much attention on gender and power dynamics, especially in the workplace, this conference set an agenda to create pathways to gender equality," said AU Department of Economics Chair Mieke Meurs.
School of Education Launches Dual Enrollment Program for DC Students
American University's School of Education (SOE) officially welcomed its first cohort of DC high-school students to the new Dual Enrollment Program, a partnership between SOE and District of Columbia Public Schools (DCPS). The program offers students a pathway to take college-level education courses at American University during their senior year in high school. At the same time, it promises to produce future teachers for the Washington school system.

"We are thrilled to welcome our first cohort of extraordinarily talented DCPS 12th graders," says Cheryl Holcomb-McCoy, dean of AU's School of Education. "I am impressed by their passion for education, and I'm excited about the prospect of training them to be teachers. With looming teacher shortages and sharp declines in the number of teachers-of-color, this program has the potential to supply DC with a pipeline of new diverse teachers."
 
Alum Lonnie Bunch Receives Ambassador of Arts Award
College of Arts and Sciences alumnus Lonnie Bunch (BA history '74 and MA history '76) has been honored with the 2018 Ambassador of the Arts Award from Washington Performing Arts.

Bunch is the founding director of the Smithsonian's National Museum of African American History and Culture (NMAAHC), which opened its doors to the public in September 2016. He is also a nationally known educator, curator, and author who has written extensively about the African American experience in the United States.
Author and Photographer Teju Cole Visits AU
Teju Cole's creative depth and talent across platforms make him a contemporary model to behold. Cole has published novels, nonfiction essays, and a photography book. Media outlets have praised his innovative use of social media, and his output includes everything from art installations to Spotify playlists. He's also a photography critic for the New York Times Magazine. Cole made a special two-day appearance at American University in October to talk about art and activism in front on a sold-out audience.