Science
Bringing Myplate to Their Plate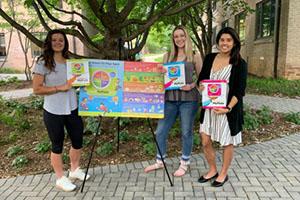 Healthy Schoolhouse 2.0 is a program designed to increase health literacy and prevent obesity in elementary school students in Washington, DC. To achieve this goal, this program operates on a three-pronged approach including education, research, and extension components.
Education: to improve health literacy, attitudes, and behaviors of elementary school students and teachers.
Research: to evaluate the effectiveness of the nutrition lessons on student's knowledge and behavior through written assessments and lunchtime fruit and vegetable consumption.
Extension: to extend nutritional learning beyond the classroom by providing nutrition activities and giveaways in partnership with Martha's Table, which holds a monthly free pop-up market to increase access to fresh fruits and vegetables to students and their families.
Utilizing the school setting to improve the nutrition literacy of elementary school students is a major point of emphasis for Healthy Schoolhouse 2.0. Teachers play a unique role in a child's formative years; therefore, having teachers foster a culture of health and wellness in the classroom can have lasting impacts on a child's life. Teachers participate in five professional development (PD) sessions, teaching them how to integrate nutrition concepts into their classroom lessons. The classroom lessons utilize the United States Department of Agriculture (USDA) Serving Up MyPlate curriculum to educate students on the MyPlate model of food groups, as well as the importance of eating a well-balanced diet with plenty of fruits and vegetables. The MyPlate curriculum is aligned with Common Core, National Health Education Standards, and National Science Standards.
The curriculum has four levels, covering all elementary grades, and each level has a different set of lessons. Each curriculum includes an overview of the lesson contents and a segment describing exactly how each lesson meets either Health, Language Arts, Math, or Science standards. Exposure to this nutrition curriculum and activities at professional development sessions is an effort to not only help the teachers learn about health but also to inspire them to incorporate fun learning into their lesson plans. These PD sessions cover a new topic each time such as macronutrients, food labels, sugar contents, physical activity, and healthy eating. These activities are meant to encourage a focus on personal health to help engage and educate teachers.
Nutrition lessons from the MyPlate curriculum also incorporate math and science topics. An example of a lesson that meets the science requirement can be found in the MyPlate book that serves grades three and four. "The Science of Sometimes Foods," covers foods that contain high fat or added sugars. In this lesson, the teacher first explains how these "sometimes foods" can be found within the traditional five food groups. Teachers then encourage students to switch these foods for foods that have less solid fat and no extra sugars.
The following activity asks the students to use the scientific method to determine which foods contain solid fats and which contain liquid fats. The experiment requires three foods such as chips, French fries or bacon and three lower fat foods such as bananas, graham crackers and nuts. After making a hypothesis, the students will rub each of the foods on a brown paper bag square and let them sit overnight. The next day, the students will observe which foods left the most grease on the paper bags and make conclusions about the fat content of each food. While teaching how to use the scientific method, this lesson also helps students to learn about which foods may contain less fat and thus provide better nutrition.
In year one of the five-year project, teachers at our partner school taught 51 of these nutrition lessons. Furthermore, 42 teachers and school staff attended at least one or more PD sessions(out of five sessions), an average of 142 students attended the monthly free pop-up market, and 14 teachers participated in a pedometer challenge.
Results indicated there was a significant positive correlation between the number of PD sessions attended by the teacher and number of nutrition lessons implemented in the classroom(r2=0.233, p<0.05). When evaluating and comparing pre- and post-student nutrition knowledge through survey administration in the classroom, a significant difference was observed for student nutrition knowledge in the experimental school but not for the control school.
To assess students' eating behaviors in the control and experimental schools, fruit and vegetable consumption was measured during the students' lunch period. Food consumption data was collected on an app, LunchCrunch, which allowed data collectors to evaluate consumption of a food item from 100% consumed, to 50% consumed, to 0% consumed, or "not taken," i.e., item was not on the student's plate. On average, the percent of students consuming an entire serving of fruit during lunch in year one of the study was 24.52% during the pre-datacollection and 33.68% at post-data collection.
The results of this study found that there are positive effects of nutrition lessons and in the elementary school classroom on student knowledge, attitudes, and behaviors. STEM topics can be taught through nutrition lessons such as lessons that are available in the Serving Up MyPlate curriculum. By improving nutrition knowledge through educating and encouraging teachers implementing nutrition lessons, this can also increase knowledge in STEM-related topics in elementary level students.