International
The Impact of the Covid-19 Pandemic in Puerto Rico
The current COVID-19 pandemic has adversely affected Puerto Rico as it has much of the world. Puerto Rico, an island with over 3.1 million inhabitants located in the Caribbean Sea, is a territory of the United States. The coronavirus is magnifying the territory's multilayered economic and social crisis, one that has been aggravated by the catastrophic hurricanes of September 2017 and earthquakes earlier in 2020. PR's response to the pandemic was relatively diligent and swift. Quarantine, curfew, and lockdowns per executive orders were among the timeliest and strictest in the United States, and perhaps worldwide. Since I call PR home, I decided to complete an independent study to interview public health professionals to better understand the social and economic implications the pandemic in Puerto Rico.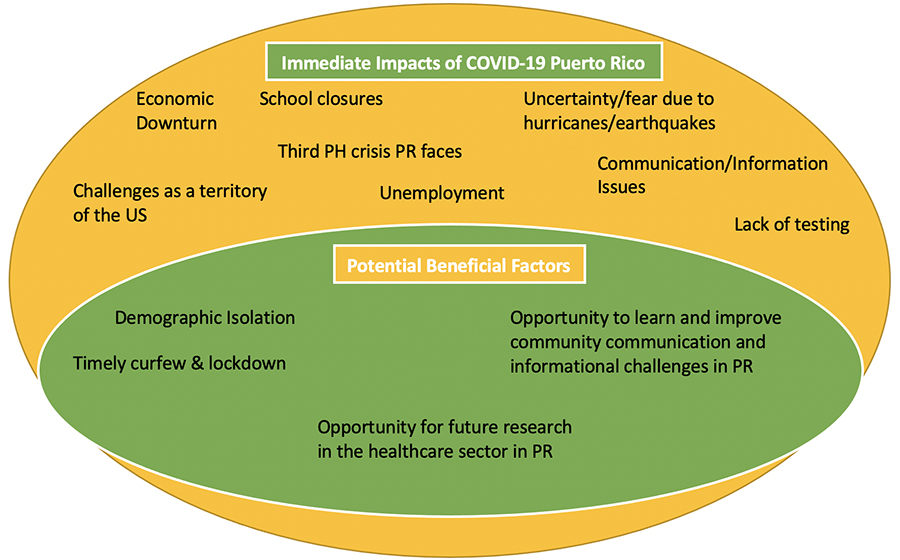 On March 13, 2020, Puerto Rico closed all public schools and several universities, switching to remote education. The same day, the island took additional measures, including a temperature check of persons at all ports of entry. Stay-at-home orders and social distancing guidelines were in place by March 15. Islanders had a curfew and were only allowed to purchase essential items or obtain essential services from 5 a.m. to 9 p.m. While many states had hundreds of confirmed COVID-19 cases, Puerto Rico only recorded a small number of confirmed cases and had no reported deaths.
The director of the Division of Clinical and Health Services Research on the National Institute on Minority Health and Health Disparities (NIMHD) supports the measures taken, stating, "I applaud the curfew. I applaud some very strict measures put in place…in the light of having very low resources, restrictions are going to be very effective."
Socioeconomic Challenges
The island has been struggling for years to restructure $120 billion public debt, pension obligations, and losses as it also continues to recuperate from the destruction that was caused by Hurricanes Irma and Maria in 2017 and a series of earthquakes in January 2020. The pandemic also comes in the aftermath of a political crisis that resulted in the resignation of the Governor Ricardo Rossello in August 2019.  
Puerto Rico has been hit hard by widespread unemployment resulting from the response to the pandemic. Even before the pandemic, 94,000 Puerto Ricans (36.2 percent of residents) were unemployed, and between March 16th and 30th, approximately 76,928 additional Puerto Ricans applied for unemployment benefits. Loss of employment is also associated with poor health. Therefore, the lack of employment during COVID-19 exacerbates existing disparities. Given these challenges, Gov. Wanda Vazquez took rapid action aimed to contain the coronavirus pandemic.
Demographic Isolation
Puerto Rico's demographic isolation and urban infrastructure has been a strength during the pandemic. According to a local renowned economist from the Caribbean Analyst Unit, "poor urban planning, lack of public transport and urban sprawl, problems that have plagued us for decades, now work in our favor." He further highlights that although Puerto Rico has high population density, residents do not have to walk on crowded pedestrian sidewalks to get to work, as driving is the preferred mode of transportation, which facilitates physical distancing.
However, the political status of Puerto Rico, as a territory, poses a major challenge. Even though many experts recognize Puerto Rico's lockdown with protecting its tenuous health system, significant uncertainty about the coronavirus remains because the territory has lagged behind the United States mainland in testing and tracing cases. The main concern is how the lack of testing creates uncertainty in an island that already handles a scarcity in medical resources and funds.
Communication Challenges and Political Turnover
On August 2, 2019, Gov. Ricardo Rossello resigned after civilian protests due to the leak of chat messages between the governor and his advisors. In addition, the Secretary of Health of Puerto Rico resigned on March 13, 2020 after the island confirmed its first three COVID-19 cases. In fact, Puerto Rico went through three health secretaries during the month of March 2020, and Chief Epidemiologist Carmen Deseda resigned in March as well. His successor, David Capo, was only in the position for two months and his contract expired in May 31, 2020.
During a pandemic, communicating accurate and evidence-based information is imperative, and this leadership vacuum and unrest has hindered the island. According to the communications specialist and the geriatric and Alzheimer's disease program coordinator at the Department of Health of Puerto Rico, "all these administrative changes were a barrier to unify that information system that runs in the Department of Health, for both internal and external audiences."
The Department of Health has been working closely with the Office of Communications in the Department of Health to ensure that information is accessible to the public. They offer special programs on Covid-19 on the government's news station, such as information on treatment and prevention of respiratory diseases.
"The critical part is improving everything that has to do with the system of information and that's what I think we should mainly pay close attention to…it's all about having a robust information management system," said Health Administrator at Vista Ophthalmic Ambulatory Care Center. The director of the Division of Clinical and Health Services Research on the NIMHD urges, "We need to move forward…we need research that explains best practices or needs for improvement and how emergencies and different healthcare systems are organized and how they can cross-communicate…research in that will be critical to test on pilot test models of communication, collaboration, and coordination."
The current Governor Wanda Vázquez recently signed an amendment Executive Order that requires visitors to provide a negative Covid-19 test result within 72 hours of arrival. Face masks are required, as are social distancing protocols. This order is more restrictive and intended to monitor who enters the island to control the virus.
Moving Forward
Puerto Rico needs transparency. Education, communication, and trust is necessary for successful public health efforts, and that information needs to be accessible in credible evidence-based resources. If we do not have accurate data, it's challenging to comply with the role of educating the population. We need to encourage other preventive measures to reinforce the efforts of the Puerto Rican healthcare system while educating the community and promoting overall physical and mental well-being. We need more research that examines health disparities among different populations in Puerto Rico so we can better strengthen prevention efforts on the island.