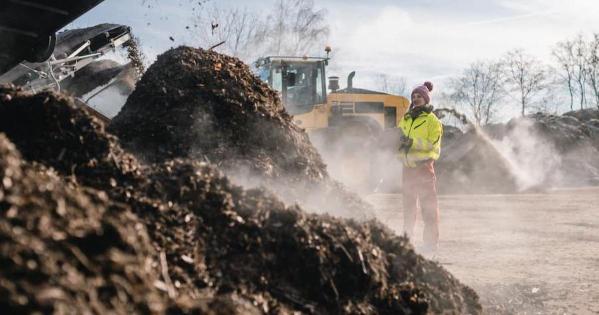 After walking into AU's dining hall, Terrace Dining Room (TDR), visitors soon recognize all the ways that AU Kitchen is committed to sustainability. Reusable dishes and cutlery, a tray-free dining experience, and package-free condiments are all ways that TDR is working towards greener dining for students, staff, faculty, and their guests.  
One of TDR's most recent commitments is composting. For many students, the guidelines for composting may seem obvious. But what they might not realize is how strict these guidelines are. If non-compostable items are placed in a compost bin, the compost is considered waste. In TDR, visitors must place trash (such as wrappers) in the designated trash bin by the conveyor belt and then place utensils and dishes on the conveyor belt to be sanitized in the dishwashers, along with any remaining food. Once food waste arrives in the back of the kitchen, it is put aside for collection by the Office of Sustainability. Students and staff, known as the Compost Crew, pick up compost at TDR and other locations across campus before it is sent to the Prince George's County industrial composting facility in Upper Marlboro, Maryland.  
Pizza crusts, apple cores, and leftover salad are not the only items composted at TDR, though. According to Head Chef Robert Marquez, other items in the kitchen are gathered as well. "All leftover food, production food, production waste, and spoilage items that we didn't get to use in time are composted as well."  
AU Kitchen has participated in National Stop Food Waste Day. In TDR, students learned more about composting and other zero-waste efforts, played trivia games, and packed snack bags for DC nonprofit Martha's Table. Representatives from AU's community garden were also present to answer questions about composting and sustainability efforts and to share information on getting involved.  
TDR's contribution to AU's overall effort to compost on campus is vast. According to Jesse Cross, zero waste manager at AU, approximately 1,000 pounds of compost is collected a week from TDR alone. Cross' Compost Crew has been collecting from TDR since Spring 2019. It is a group of students that collects collections from across campus compost bins, including TDR and several other compost bins located near other dining retail locations. Throughout MGC, compost bins can be found nearby alongside separate bins for waste and recycling.  
In addition to AU Kitchen facilities, the compost crew also collects coffee grounds from the Bridge Cafe and the Davenport Coffee Lounge. Their slogan, "When in doubt, throw it out" is crucial to avoid entire collections from being contaminated and having to go into a landfill.  
Cross and his team have emphasized that ensuring food waste goes to the correct location is a small step that makes a significant impact.  
"TDR plays a huge role with composting since it is our largest dining partner," Cross said. "Continuing to do so increases AU's dedication to sustainability and fighting the food waste crisis. From orange peels to leftover produce at the end of the week, the AU community is aiming to create a green dining campus." 
This story was originally written in spring 2022 for AU's Science Writing class.