Science
Spring 2020 Chemistry Seminars and Lectures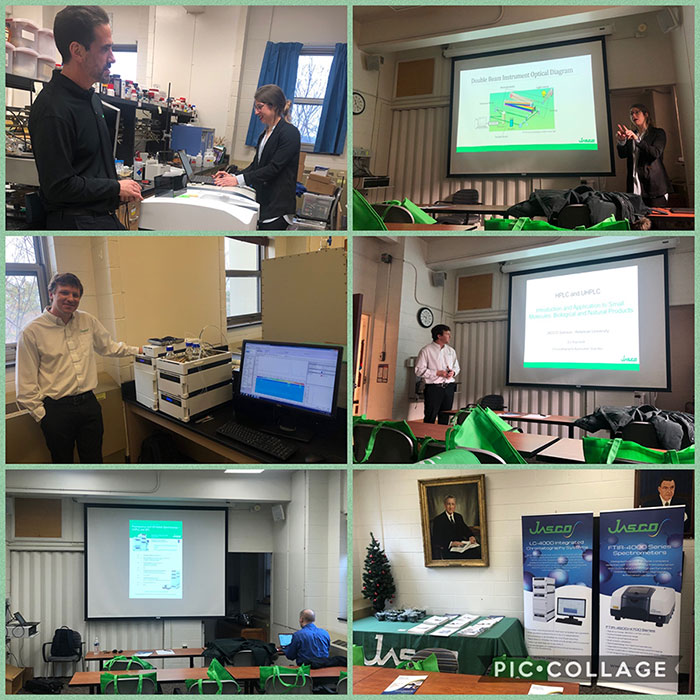 During the spring 2020 semester, before the pandemic struck, Dr. Alexander Zestos created lots of great opportunities for American University's Department of Chemistry, both for faculty members and students. They included seminars and lectures on specific fields and research in chemistry. As a chemistry student, I have the chance to participate in these lectures. Gaining lots of experience and getting familiar with new and different research was one of the positive aspects.
Moreover, Dr. Zestos created a very warm environment in the chemistry department, which motivates students to join the lectures and seminars. One of the interesting seminars held in February 2020 was the JASCO Seminar. JASCO is a Japanese company that specializes in analytical instruments and has many years of experience within spectroscopy and chromatography instrumentation.
Over the last 60 years, JASCO has grown into a respected global supplier of high-performance analytical instruments, operating in 57 countries throughout the Americas, Asia, Europe, Oceania, and the Middle East. This company has a wide range of products in chromatography and spectroscopy branches.
In this seminar, operators from JASCO introduced their products and showed us some examples of their instruments like Fluorescence and High-Performance Liquid Chromatography (HPLC). Students from the chemistry department had a chance to test their samples. For the HPLC, 5 mM of the neurotransmitter dopamine was tested, and we got observed clean peaks in the HPLC analysis. For fluorescence testing, we analyzed the Gold nanoparticles, which were synthesized by chemistry students.
Both instruments, HPLC and Fluorescence, are very fast working devices that help scientists to speed up their work and get to the results as fast as possible. And as we see nowadays, the matter of time is important in research cause in situations like COVID 19, the faster the instruments work, the faster the scientists can get a result that could possible save the world. At the end, thanks to Dr. Zestos for creating this opportunity for the chemistry department, and thanks to JASCO company for their lovely gifts.