Arts
Chamber Singers Performance a Technological and Artistic Triumph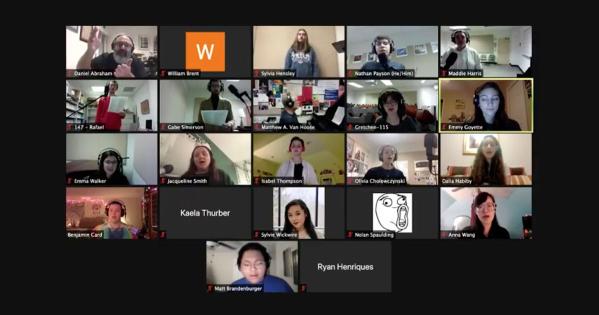 Last week, twenty members of American University's Chamber Singers sang together triumphantly as an ensemble in real time.  
Ordinarily, this would be standard operating procedure and no big deal. But during the current COVID-19 pandemic, this accomplishment was remarkable, because none of these singers was in the same room. One was in Kansas, another in Massachusetts, with others in Connecticut, New York, and New Jersey. Some students were in the DC area, and a lucky few were even isolated in individual practice rooms and studios in AU's Katzen Arts Center. But they all came together as one ensemble, under the direction of Department of Performing Arts Chair and Professor Daniel Abraham.
"With COVID-19 aerosol concerns, we knew we had to be innovative," says Abraham. "Group singing was determined to be among the riskiest activities in which one could engage. With our switch to fully online after July 30, we found that around half the ensemble would not be proximal to campus, so I decided to see how far we could take a technology that was proving successful with a handful or less of musical collaborators. The results are a testament to the tenacity of the singers and their openness to learning. With this success, we have achieved something well beyond any of our peers nationally and have provided our students with a set of tools for artistic consideration and career readiness for the future."
How Tech Made It Possible
What made it all possible was a sophisticated, powerful piece of software named JackTrip, along with the help of Professor William Brent and the students in his new Audio Technology Program (ATEC) course in Telematic Music Production. Both the ATEC students and the ensemble members learned how to use JackTrip, which enables the Zoom audio to be "pushed" so that there is nearly no latency nor lag in the sound traveling across the internet. This enables the singers to sing rhythmically together in time with the possibility of aural sensitivity and reactivity essential to the ensemble singing experience.  
The results were dramatic. "I was so impressed watching and listening to the performance. It's as if the singers were operating in a fourth dimension," said Interim Dean Max Paul Friedman. "Because we could hear the chatter and some of the instruction, it was evident how much organization and coordination, as well as technical proficiency, went into producing such beautiful music. I'm very proud of all our students have accomplished by turning crisis into opportunity and opening up a whole new world of potential professional pursuits."
The Musical-Technological Overlap
Perhaps the most remarkable aspect of this undertaking was the mutual learning experiences between the disciplines. "The Chamber Singers, typically focused on things like tuning, vowel pronunciation, and phrasing, have now gained considerable expertise in port forwarding, buffer sizes, and upload pings," says Sean Doyle, Senior Professorial Lecturer (and composer and singer-songwriter), who worked on the production. "The ATEC students offered their specialized insights in these areas, while cultivating critical listening skills for choral textures, harmonics, and balance/blend of live ensemble voices. I'm told that no other collegiate ensemble of this size has successfully presented a performance in this way, putting AU at the forefront of embracing technology for safe, COVID-mindful artistic enterprises."
 
Doyle points out that this opportunity for music-making represents so much of what makes AU a truly unique center of creativity: "A cross-disciplinary collaboration between Music and Audio Technology. The use of cutting-edge software with a steep learning curve being mastered by student technicians and student performers alike. STEM becoming STEAM!" he says.
Doyle notes that every day, we hear about how the arts have been impacted by the current pandemic realities in our country. "So, I'm especially proud and grateful that all of our programs in AU's Department of Performing Arts are able to offer such innovative, safe, and richly artistic opportunities for learning, creativity, and growth to our students," he says. 
What's Next
Abraham is already planning for a longer, more public-facing event in the works for the spring. Expectations are high. "If it's as well-executed as yesterday's trial run, I greatly look forward to it and am thrilled at the thought of our university offering it to the public," says Doyle.
"Like many of the inspiring achievements in the Department of Performing Arts this semester—where art making and pedagogy have incorporated technology to advance our student's knowledge as well as our art forms—we need to bring this forward to the public," Abraham adds. "We are aiming for a larger webinar about how best to deploy this technology to help others find success. We hope this can happen right at the outset of the spring semester."
For more information and the latest news on upcoming performances, please visit the AU Arts website.