Change Can't Wait: AU Kicks Off Year of Climate Change Events
To coincide with COP26, the UN's historic climate change conference in Glasgow, Scotland, American University hosted its very own Seeing Climate Change Symposium from November 5-7. It brought together leaders from the arts, sciences, and policy worlds to examine how best to understand and respond to human-induced global heating.
Seeing Climate Change, sponsored by AU's environmental programs, was held both virtually and in person, with hundreds of participants. It was a weekend filled with panel discussions, expert talks about science and policy, calls for action and environmental justice, art exhibitions, green campus tours, and video appearances from COP26 participants. It also kicked off the university's 2022 Year of Climate Action.
"We now have the best science in history producing a consensus about the urgency of the problem and what to do about it, and yet this has still not produced enough action," said Max Paul Friedman, interim dean of American University's College of Arts and Sciences. "We need more than climate science to tackle climate silence. We need our activists, our authors, and our artists to touch the hearts of those whose minds have not been moved by all the data. This symposium — which the State Department put on its Virtual Pavilion for COP26 as one of the few exhibitors — showcased how valuable an interdisciplinary approach to climate change can be. And it highlights AU's position as an environmental leader, with our first-in-the-nation carbon-neutral campus, our strategic focus on sustainability, the Center for Environment, Community, and Equity, and the many faculty working in this area, as well as this generation of dedicated AU students."
To watch the symposium, visit the Seeing Climate Change website. And read on for some highlights:
Art as Inspiration and Agent for Change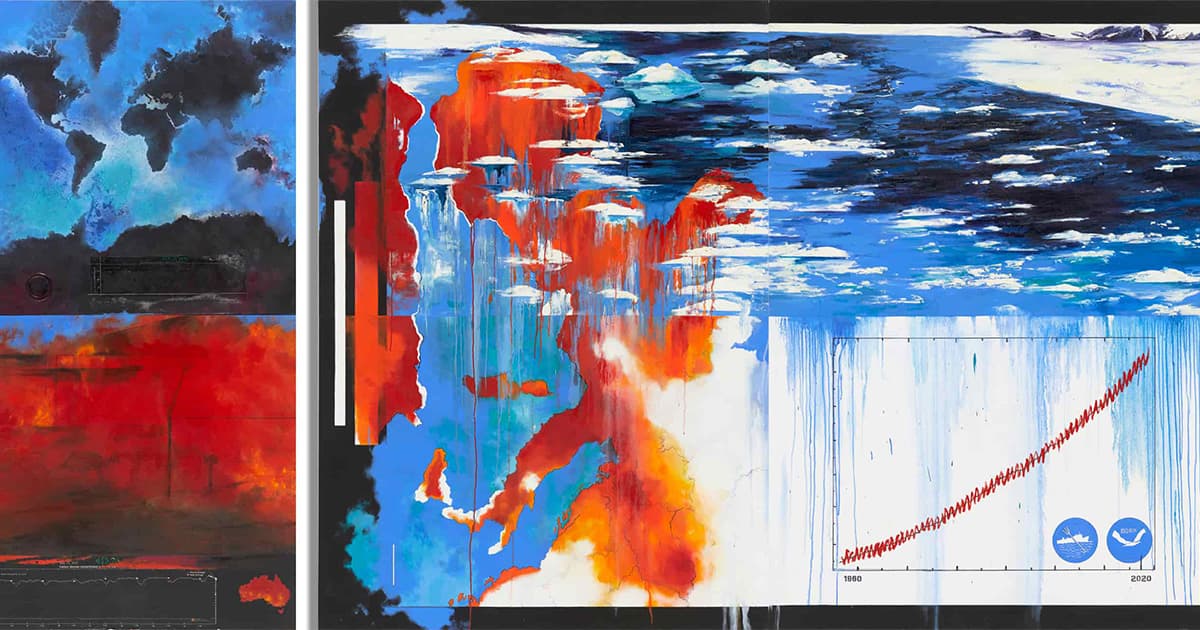 The symposium was inspired by artist Diane Burko's exhibition, Seeing Climate Change: Diane Burko 2020-2021, now on display at the AU Museum at the Katzen Arts Center. To launch the symposium, Burko joined art critic Eleanor Heartney and curator Jennifer McGregor for a discussion about art and climate change, moderated by Jack Rasmussen, AU Museum director and curator.
For more than 15 years, Burko's work has operated at the intersection of art and the environment, fueled by concerns about climate change, from rising sea levels to coral reef ecosystems. She is currently focusing her art on the Amazon Rain Forest, as well as drought and forest fires in the United States. She believes she can contribute to the public dialogue by learning from researchers in the field, bearing witness to the actual phenomenon and then processing that knowledge visually.
The panel discussed how the natural world influences art, the opportunities and obligations for artists in the climate age, and the connections between the production of art and the production of social action.
AU and Climate Change: Changemaking at its Best
American University has a long commitment to environmental work. It launched the Center for Environmental Policy ten years ago, taking an interdisciplinary approach to tackling issues including climate change. AU is the first university in the United States to be carbon neutral, and sustainability is one of the university's critical areas of strategic focus.
The university recently received its largest-ever external grant, $15 million from the National Science Foundation, to study food waste and find solutions to making our food chain more equitable and sustainable. College of Arts and Sciences faculty who will be working on the grant include Principal Investigator Sauleh Siddiqui (Environmental Science), Kiho Kim (Environmental Science), Jessica Gephart (Environmental Science), Annie Claus (Anthropology), and Stacey Snelling (Health Studies).
"Virtually every part of AU — our students, our faculty, our staff, the research centers, our alumni, the facilities — is information by the climate change agenda," said American University President Sylvia M. Burwell. "We believe this is changemaking at its best; it is challenge accepted as its best."
The Social Injustice of Climate Change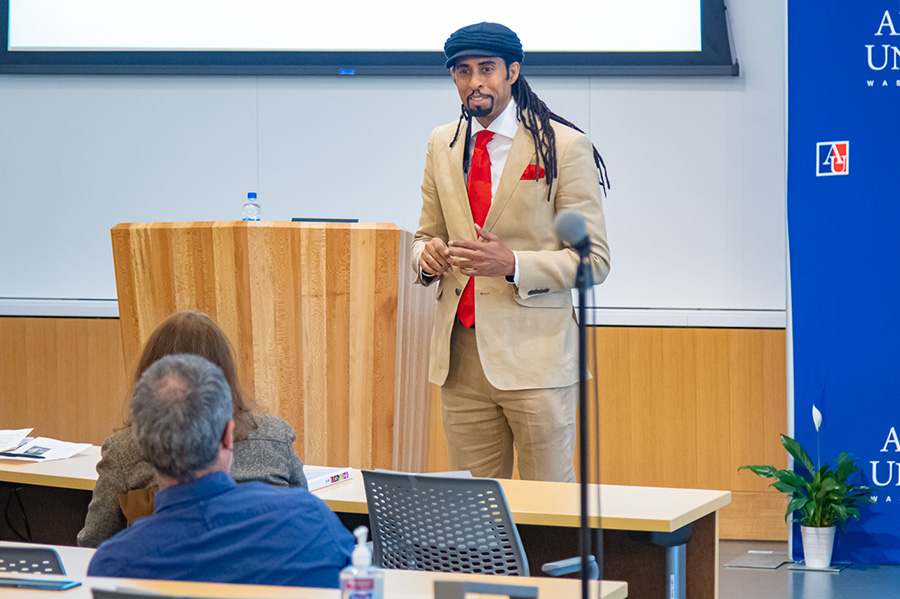 Inside AU's new Hall of Science, where some of the university's most exciting scientific research is taking place, symposium keynote speaker Mustafa Santiago Ali spoke about climate change action and the power of people and policy to create resilient communities. Ali is the vice president of Environmental Justice, Climate & Community Revitalization for the National Wildlife Federation (NWF) and the founder and CEO of Revitalization Strategies. Before joining NSF, he was the senior vice president for the Hip Hop Caucus, and he also worked for 24 years at the US Environmental Protection Agency.
Ali discussed the policies that allow pollution to disproportionally affect communities of color. "It was policy that said we can run roads through certain communities, we can build bridges though certain communities and break them up, we can dump off wealth into some communities and pollution into other communities," he said. "And the communities that often got the pollution were black and brown and lower wealth communities — and sometimes on indigenous lands."
As our nation looks at building new infrastructure, Ali argues, we need to refocus where our resources are going if we are serious about creating real change. President Biden's Build Back Better Federal Framework is a historic opportunity, he says, to replace pollution-spewing cars and trucks with electric vehicles, clean up brownfields and superfund sites, build new energy efficient housing, and create new clean energy technologies. Not only would these efforts help improve health in communities of color, but they also create new opportunities for jobs and income.
Ali ended with a call for new voices to have a seat at the table when it comes to climate change: young people, writers, poets, and artists. "In this transformational moment, we can make change if there is intentionally, there is equity, and if we truly want to make sure that we are in this together."
Storytelling on Front Lines of Climate Change
Five years ago, Lockwood set out to collect individual stories around the world about how flood, fire, drought, and rising seas are changing communities. She traveled to 20 countries on six continents — much of it on bicycle — to document 1,001 stories. Lockwood shared several of these stories with the audience, illustrating how climate change is affecting people on the front lines, from food insecurity to migration patterns.
Lockwood ended by explaining that deep listening is something we need as first step to climate solutions. She urged students to "get out there and ask questions and listen. Have conversations about the hard things."
It was a message that seems timely as American University embarks on a Year of Climate Action. Stay tuned over the next few weeks for how you can join in, listen, learn, and act.