Arts
CHOREOLAB 2020: Redefining Dance During Pandemic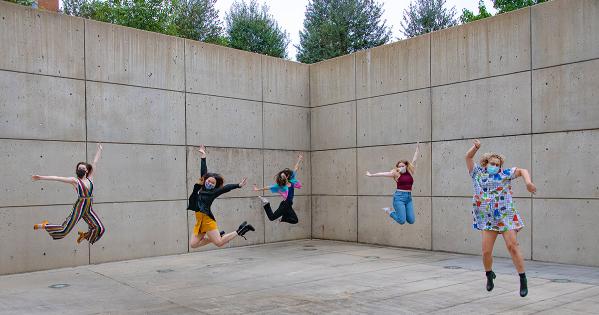 Over the past several months, students in the American University's Dance Program have redefined what dance, rehearsing, and performances look like during CHOREOLAB, a two-and-a-half month-long class for emerging student choreographers that puts dancers in the choreographer's seat.
For Scout Pruski, Jocelyn Hartman, Emma O'Brien, Natalia Cervantes, and Abigail Jackson, the five student choreographers this semester, running online rehearsals is a completely new experience. As they worked through technical difficulties and overcame the challenges of connecting with dancers virtually, the choreographers redefined what rehearsing together looks like.
"I'm really proud of the work that the students have been doing this year. They had these incredible ideas - ones that were bubbling and brewing for them during the first months of the pandemic," said Erin Foreman-Murray, director of AU's Dance Program. "And they have been really tender and generous in their work with each other, just really a supportive space this year for them to take risks with their work as choreographers and as performers."
A New Community
The student choreographers stress that generating a new type of virtual community has been particularly meaningful during the pandemic. "It's interesting how you can have dancers from all over the place. In my cast I have dancers from Texas, Virginia, and DC – so even though we are in different time zones, we are still coming together to work through this collaborative process of CHOREOLAB," says Jocelyn Hartman (BA dance and international service '23), a sophomore from Maryland who performed in CHOREOLAB last year and is choreographing for it for the first time this year. She echoes the voice of several of the student choreographers who are overcoming challenges to put together innovative work.
Natalia Cervantes (BA dance and psychology '23), a sophomore from Manhattan Beach, CA, and first-time CHOREOLAB choreographer, believes in the energy that is shared between dancers, even through a screen. "Rehearsing through a screen was definitely a shift, but I chose to embrace the challenge as an opportunity to push my creativity," she says.
Virtual Connections
A virtual connection has pushed dancers and choreographers to be conscious of the body in new ways. There has been a huge sense of gratitude. One of the choreographers, Scout Pruski (BA film and media arts, minor in dance '21), a senior who is choreographing for the second time, says, "The key for me has been this idea of sharing space, rather than performance. You're looking at a screen, and your first instinct is to analyze the images like a piece of media, but in dance classes, it's different: people can essentially see your whole living space, wherever you're moving. You are conscious of the body, but not of its connections to others. And the end of class, acknowledgements have to reflect that vulnerability: thank you for bringing us into your space, thank you for sharing your practice with me, etc."
Emma O'Brien (BA dance and government '22), a junior from eastern Connecticut, says she lives for the interpersonal aspects of dance. "It's been interesting to see how we can all still learn from each other physically, through a screen." She says rehearsing her work for CHOREOLAB virtually has influenced her linguistically, making her more aware of the words she uses and their intentions.  
For all of the choreographers, creating dance work to be presented online is a new concept. How is emotion communicated? How do we show appreciation for one another? These are all questions the student choreographers have contemplated in CHOREOLAB.
Abigail Jackson (BA political science '23), a sophomore from Columbia, Md, at first felt like she was stepping into the unknown. However, she found out that the CHOREOLAB workshop was a valuable place for her to research her work. "Originally I was interested in researching how a single person moves from a state of discomfort to comfort individually," she explains. "After working together in rehearsals, moving through this as a group became very important."
While everyone yearns for the in-person bond they had with their fellow dancers in the past, students are also attempting to redefine what this connection means. Before COVID-19, dancers would arrive to class and rehearsals early in order to mingle before getting to work. At the end of African dance classes, for example, students would tap next to the feet of the drummers. These days, dancers do "jazz hands" to show appreciation through a screen. Dance is a soul and body connection, which is hard to cultivate under these circumstances. Still, choreographers have been resilient, pushing through rehearsals every week with an open heart and fluid mindsets.
CHOREOLAB 2020 streams live on Friday, November 13, and Saturday, November 14, at 7:30 p.m. Tickets are available on the AU Arts website.