News
CAS Commencement 2009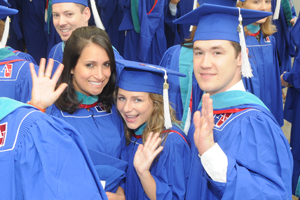 CAS undergraduate and graduate students who have completed the requirements for graduation are getting ready for the CAS commencement ceremony on Saturday, May 9 at 4:30 p.m. in Bender Arena.  This is the first year that each of the six AU colleges and schools will conduct their own ceremony.  Immediately following the event, all CAS graduates and their guests are invited to a reception in the Katzen Arts Center Rotunda. 
The featured speaker for the CAS ceremony is renowned historian Lonnie G. Bunch III (BA '74, MA '76), founding director of the National Museum of African American History and Culture.  Scheduled to open in 2015 on the National Mall near the Washington Monument, the museum has a goal to explore African American history, while helping all Americans see just how central African American history is for all of us.  Previous to this position, Bunch was the president of the Chicago Historical Society (now the Chicago History Museum), which is one of the oldest history museums in the United States.   During his tenure, Bunch led the museum through a reorganization and a capital campaign.  
Tom Plotkin, who graduated magna cum laude in December with a double major in French Language and European Studies and a minor in Spanish Language/Latin American Studies, is the student speaker for the event.   The CAS Dean's Office sends an open invitation for all graduates to submit a speech.  A committee reads all of the entries, and this year Plotkin's speech stood out from the rest.  A very active student, Plotkin participated in the AU Jazz Ensemble, the AU Jazz Combo, and the AU Chorus.  Plotkin was also a member of Phi Alpha Delta Pre-Law Fraternity and studied abroad to the La Sorbonne in France and the La Universidad Diego Portales in Chile.