In the Community
Leading the Charge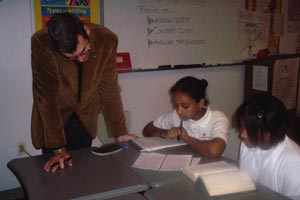 This semester's Community-Service Learning Program (CSLP) is getting underway, and the College of Arts and Sciences is leading the charge. A record 71 students are participating in the CSLP's spring program, and 70 of them enrolled in conjunction with courses offered through the College.
Students participating in the CSLP complete 40 hours of community-based service related to a regular three- or four-credit course they are enrolled in that semester. In exchange, they receive an extra course credit. The program is run through AU's Community Service Center.
This semester, 21 of 22 courses affiliated with the program are in the College, including classes in literature, education, health and fitness, language and foreign studies, anthropology, sociology, history, economics, American studies, and environmental science.
Their service projects cover an equally diverse range of sites and activities. College writing students are volunteering as tutors and grant writers for local charter schools; anthropology students studying racism are working with downtown minority youth organizations; and students studying the history of Latin America are working in the D.C. Latin American community.
"Hands-on experience enhances learning miles beyond what you learn from a book in the classroom," says Marcy Campos, director of the Community Service Center. "When you have the ongoing experience of working in a non-profit setting that in some way addresses the issue that you are involved in, you are going to connect with it in a real-life way as well as an academic way."
The Community Service Center also offers professional development opportunities for faculty members interested in embarking on community-based learning and research projects. On Monday, March 1, the center will present "Engaged Scholarship: Best Practices in Community-Based Research Locally and Nationally, " a panel discussion led by Sam Marullo and Deanna Cooke, both from the Center for Social Justice Research, Teaching, and Service at Georgetown University. The event is cosponsored by the College of Arts and Sciences and Office of the Vice-Provost.