Research
Computer Science Professor Receives Grant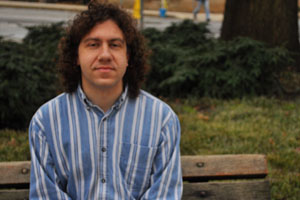 Computer science professor Michael Black has received a $118,651 grant from the National Science Foundation to lead a project entitled, "A Graphical Full System Simulator for Undergraduate Computer Architecture Education." 
The project's goal is to create a web-based, graphical simulator that will depict the computer architecture of modern microprocessors to students learning about how they carry out functions.  
Computer architecture is the study of the workings of microprocessors and other component parts of a computer, and understanding it is an essential component of computer science students' studies. By thoroughly understanding microprocessors, students can discover ways to make programs run faster and with less energy or develop model programs of their own to try.
Unfortunately, many students today learn architecture from simulators that model hardware from the 1970s and 1980s, or on a chalkboard, which makes it impossible to represent complexities and problems that arise in actual computers. "Computer architecture, as currently taught at the undergraduate level, presents a highly simplified and often outdated model of computers," says Black. "These tools, impractical for an undergraduate course, create a barrier for students who wish to learn about modern processors."  
Black hopes his simulator will be a modern, accurate, and user-friendly pedagogical tool. Animation will aid with visualization of processes, and a status bar will simultaneously explain important processes as they occur. Students will be able to choose the difficulty level used. At basic levels, they can highlight only the components necessary for the specific process they are examining. More advanced students will also be able to view complexities, such as the interplay of multiple pieces of architecture. 
For his graduate thesis, computer science MS student Stephen Williams is assisting Black with the project by making the simulator as easy to use as possible. And Manoj Franklin, a professor in the Department of Computer and Electrical Engineering at the University of Maryland-College Park, will help ensure that the tool accurately models actual computer architecture.  
After the simulator is created, Black and his team will evaluate it in several academic contexts, including tests performed in conjunction with AU's School of Education, Teaching, and Health and the University of Maryland. The research team will then tweak the simulator based on the results. When finished, Black says he eventually hopes to make the simulator available to the academic community for free.