Literature
Recent Publications by MFA Students and Alums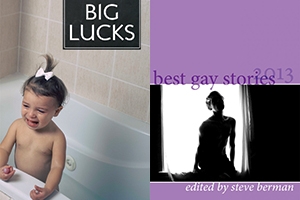 Students and recent alums of AU's master of fine arts program in creative writing have been churning out work. Here's a very small sample of the dozens of publications MFA alums and students have recently produced. 
Nicholas Boggs, MFA, '08 "East Tenth Street, 1999," published in Best Gay Stories 2013 (reprinted from Chelsea Station)

This publication is an excerpt from my novel in progress, The Attachments. I began drafting this novel as my MFA thesis at AU, where I was extraordinarily fortunate to work with Richard McCann and Andrew Holleran. The novel takes place one summer night in 1999 when Nelson, having just graduated from college and come out to his family, moves into his gay uncle's East Village apartment. When he arrives at the apartment he finds his HIV-positive uncle living a reclusive life tending to his collection of Royal Doulton figurines. The apartment is a memorial to the devastation wrought by the AIDS epidemic: each of the 197 figurines commemorates a friend who died of AIDS in the 1980s. Nelson is fascinated by the mythic stories his uncle tells him about his former life as a habitué of New York's legendary nightclubs until he begins to suspect the apartment has become a tomb in preparation for his uncle's death. After his uncle commits suicide, Nelson composes a series of emails that he sends to an older gay writer and mentor, the author of a classic gay novel the uncle admired. Attached to these emails are chapters of a novel that recall Nelson's relationship with his uncle. The Attachments tells a story of intergenerational changes in gay identity, from the AIDS crisis to the present. In doing so, it explores the meaning of attachments and asks, given the shifts in sexual politics over the last 30 years, is it still possible to write a "gay" novel? 
Jonathan Harper, MFA '10 also published "The Bloated Woman" in Best Gay Stories 2013 (ed. Steve Berman, Lethe Press), reprinted from the anthology A Touch of the Sea.

K. Tyler Christensen, MFA '14/current student "'First, Do No Harm': California's S.B. 1172 and My Experience With Sexual Orientation Change Efforts" in the Huffington Post.

My initial pitch meeting with Professor Rachel Louise Snyder was before class. I told her I'd undergone years of reparative (gay to straight) therapy. She was in disbelief. I confirmed for her that, in fact, it was true; I had spent years undergoing treatment for my sexuality. When I presented her the idea to write an article on the legislation in California to ban the practice of sexual orientation change therapy with minors, she was energetic. Not only that, this energy landed me a national platform at the Huffington Post. I couldn't have done this without her. I come from the school of psychology, wherein I believe that we're all working toward actualization of some kind (aren't we?!). Community—in the Maslovian sense—is an imperative part of the process. In my climb toward self-actualization, as a person, as a writer, the MFA community at American has fulfilled my "love" and "belongingness" needs, thus making my climb an accessible one. These individuals—my mentors, my peers—have nurtured me every step of the way. In a few words, I'd say, I've struck gold. Richard McCann, Rachel Louise Snyder, Mark Cugini, names, really—if you don't know them—but in the scheme of things, they're far more than monikers. American University's MFA program introduced me to these brilliant individuals, and I will forever be grateful for their literary wisdom. 
Michelle Dove, MFA '10 "Man vs. Pest" in Fiction Southeast

"Man vs. Pest" relies on the internal anxieties of a young wife and her ability to project her anxieties outward as instructions to both herself and the reader. In other words, the perspective here is crucial. Perspective can be a funny beast. There are times when it comes naturally and shapes a piece or character from the start and feels right. But what happens when it isn't so readily precise? I learned much about the importance of perspective in my time in the MFA program at AU, particularly regarding the struggle with what comes naturally and what you have to work at to render honestly. But more than that, workshops proved that I have to question the perspective of each and every piece, meaning I often must determine not only where the piece is looking but where that lens came from and why it's important. For writers and non-writers alike, the stories we tell cannot just follow the looking blindly. The perspective in "Man vs. Pest" reminds me that the significance of any moment in life comes not just from what is being looked at but from how we are doing the looking. 
Melissa Wyse McCaul, MFA '12 "Paradise" in Shenandoah

"Paradise" is the first story in my book, a collection of short stories set in World War II Hawaii. This story follows three Marines as they navigate through downtown Honolulu's world of wartime leisure—bars and brothels charged with promise and with enormous tension. The men's experiences introduce many of the recurring motifs in the collection: gender, ethnicity, sex and violence, and their own (and our) continually upended expectations. I shared this story with Stephanie Grant's workshop in the spring of 2010 and was fortunate to have many generous readers in that group. Stephanie has been an early and longtime believer in "Paradise," and her feedback, coupled with insightful editing suggestions from Elise Levine during my thesis meetings, helped me refine the piece. Most impactful were Stephanie and Elise's confidence in the story and trust in me. "Paradise" was published in the spring 2013 issue of Shenandoah. 
Allison Sparks, MFA '13 "Champion Boyfriend" in Big Lucks

In April, Big Lucks published my story "Champion Boyfriend." The MFA program played a huge part in the publication of this particular story. I wrote it as a flash fiction exercise in Elise Levine's seminar. Another American alum, Mark Cugini, heard me read it in the basement of the Big Hunt and he wanted to publish it. The story is about a boyfriend who is thinking and acting as a "we" while his girlfriend is having a major "I" moment. It's uncertain if she will pass her orals, but his failure to support her in this endeavor, one that's taken months of preparation and years of dedication, solidifies that the relationship will end. (I'm being harsh; maybe in the next story, he'll redeem himself.)