Arts
Historically-Informed Music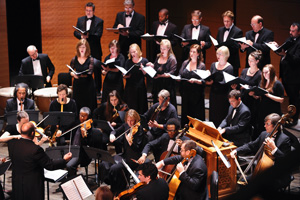 In the summer of 1995, Daniel Abraham was playing as a member of the National Orchestral Institute when he and several of his fellow performers decided to pursue their fascination with Baroque music. Little did Abraham realize that the small concert he and his colleagues were organizing would lay the foundations for the Bach Sinfonia. Abraham is the Conductor and Artistic Director for the Bach Sinfonia, an organization dedicated to bringing the quality and care of early music to Washingtonians. The DC based Sinfonia is now entering its 18th season. 
Abraham, who is Associate Professor of Music and serves as American University's Director of Choral Activities, works in a sub-discipline of music known as Historically Informed Performance or HIP. HIP is concerned mainly with early music, which is largely defined as music composed before the second-half of the eighteenth century. "This means using period instruments with a substantial understanding of the performance practices of the time and the context in which the music was conceived," says Abraham. He states, "In general, music written before the nineteenth century contains few performance directions and many facets of how things were to be done were assumed as part of the common understanding of musicians of the time, and many other choices are simply left to the performers to decide."
Early music specialists like Abraham play on restored instruments or well-researched copies of the instruments of the the time period. They look and sound different from their modern counterparts. Musicians must also thoroughly understand the times in which these instruments were played. Whether looking at historical descriptions of performances, iconography, or other primary sources, HIP musicians are able to differently express the music of time's past. "It is a fantastic field," says Abraham, "in that scholarship and performance always inform each other in equal parts."
Finding his love for Baroque music at a young age, Abraham began as a singer but soon was drawn to the trumpet. Studying under a teacher who also served as principal trumpet in Toronto's Tafelmusik Baroque Orchestra, Abraham's interest in early music developed even before he entered college and he began consuming any and all early music he could get his hands on. 
Abraham's heart still belongs to the early music he has dedicated his life to, but his role at AU offers a chance to look at all kinds of music while still imparting his passion for early music. "I love the fact that my work with the choral ensembles allows me to look at all kinds of repertoires and styles," says Abraham. "I do, however, try to make sure that my students receive exposure to the specialized things I do." In the fall, Abraham will be teaching an undergraduate seminar on the life of Johann Sebastian Bach and the wide range of approaches taken to performing and understanding his music. "These kinds of specialized classes allow me to introduce our students to things that they would not likely otherwise be exposed to elsewhere during their undergraduate studies," he says. "It is part of the beauty of our liberal arts music program."
Abraham's work with both the choral groups at AU and the instrumentalists and vocalists of the Sinfonia, allows him to bringing his zeal for early music to his work as a conductor for both types of musicians. "As a conductor it is imperative to understand the difficulties, needs, and technical issues of each instrument, vocal or instrumental," says Abraham. "The best conductors are those who never blatantly display their knowledge by telling a performer how to execute something, but rather simply ask for what they musically want to hear in a broad, often descriptive, manner and allow the musicians to actualize what is desired." 
But the two situations are not the same and Abraham says it is fundamental for conductors who teach to know about, and work within, the specifications of these differences. "With students, there is often the need for specific instruction in helping to execute an interpretive aim," he says. "It is often a difficult, but very satisfying challenge to find the careful balance between interpreter and instructor when leading a student ensemble."
Abraham encourages all students with a love for music to seek a place for themselves in the field they love, whether this means pursuing it as a career or a part of life. "The great majority of students, in music or any of the arts, will not be able to foresee what they will be doing in another decade," says Abraham. "It's okay to actually pursue music because you love it. This is the time to figure out what will make you most fulfilled."