In the Community
"DC History is Everyone's History"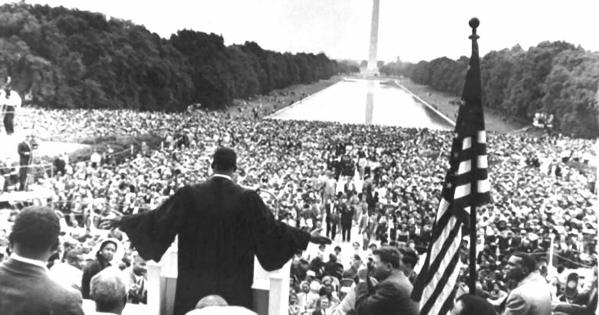 2020 was a historical year like none other, filled with upheaval, loss, pandemic, and protest. Not surprisingly, the 47th annual DC History Conference, which convened for the very first time on Zoom, took on a powerful resonance with its timely theme, Echoes. It explored the shared frequencies between contemporary events and critical historic moments that have left an indelible impact on the District, asking: how do memory and history echo through time?
"It was a year like no other for exploring the role of history in our lives as Washingtonians," said Laura Brower Hagood, executive director of the DC History Center and American University alumna who earned her Dual MA in Arts Management and Art History at AU. "By highlighting the most current thinking on our city's past, this community-oriented conference provided insights and knowledge to help us grapple with 2020's powerful legacy of change."
A Shared History, A Collaborative Effort
The ten-session was event co-presented by the DC History Center and the Public History Program at American University. AU's Department of History supported the effort from its Robert Griffith Fund for Public History, named in honor of a former Chair who was instrumental in the founding of the graduate program.  It was produced in collaboration with a myriad of local history organizations and institutions, including the Anacostia Community Museum, DC Historic Preservation Office, DC Office of Planning, DC Office of Public Records, DC Public Library, Heurich House Museum, President Lincoln's Cottage, , Smithsonian Institution Archives.
"We were thrilled this year to have American University as a key partner," said Hagood. "The Masters Program in Public History provided an excellent interface between the community and academia. AU students and recent graduates had a foot firmly in each world and helped to bring a wide range of practitioners and history lovers together, which is one of the event's greatest strengths."
M.J. Rymsza-Pawlowska, director of American University's Public History Program a longtime Washingtonian, was part of the conference's planning committee for the third straight year. "DC history is for everybody, not only people in DC," Rymsza-Pawlowska said. "The DC History Conference is unique in the way that it brings together scholars, practitioners, and community members—we're always. excited to support this vibrant and exciting program and work with partners in the city."
American University's Public History Program has been involved in the conference for many years, contributing everything from class project research to alumni presentations and papers. Faculty, students, and alumni have volunteered with conference planning and events. Many aspects of the conference reflect the collaborative role that is taken by the Program, its faculty, and students, in local history efforts. Maren Orchard, this year's conference manger, is a recent alumna of the program. Also, this year, a presentation on the displacement of the predominantly African American community at Reno City took inspiration from an American University Humanities Truck project undertaken in 2018 by Rymsza-Pawlowska and her students. The DC History and Justice Collective, consisting of DC Public School students, teachers, parents, and community members, examined the history of systemic racism in early 20th-century DC through the stories of Reno City residents whose neighborhood was dismantled for racist reasons. Two years ago, the Humanities Truck brought photographs and stories to the site via a mobile exhibition.
For conference video highlights, click on the links below: