Achievements
Dean Cheryl Holcomb-McCoy Joins Deans for Impact Prestigious organization transforming teacher preparation in United States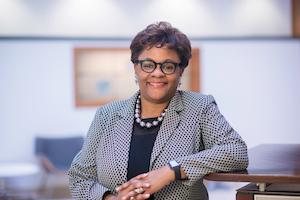 Cheryl Holcomb-McCoy, dean of American University's School of Education, has been named a member of Deans for Impact, joining a national network of leaders committed to transforming how this country prepares future educators.
Like all members of Deans for Impact, Holcomb-McCoy believes that our country's teacher-preparation system must do better: Nearly 200,000 new teachers graduate from US preparation programs each year, and many report feeling unprepared to teach in classrooms of their own. This is starting to change, thanks to leaders like Holcomb-McCoy who are spearheading innovative improvement efforts within their own programs and across the field.
"Our members are a selective group of proven leaders who want to create a vision for system-wide change. Deans for Impact is proud to foster this movement every step of the way by creating and empowering networks of leaders from diverse contexts who want to work together to ensure every student is taught by a well-prepared teacher," said Benjamin Riley, founder and executive director of Deans for Impact.
Holcomb-McCoy is one of eight new members, bringing the total membership in Deans for Impact to 22 leaders. This small group will work collaboratively together to advise and design programming that reaches more than 130 additional leaders and 27,000 teacher-candidates.
A Natural Partnership
When Holcomb-McCoy read the description of Deans for Impact, she thought, "Finally, here's an organization for me—a group of deans interested in enhancing educator preparation, learning sciences, and innovative, bold change."  
Holcomb-McCoy joined AU in 2016 as the dean of the School of Education. Previously she served as the vice provost for faculty affairs and vice dean of academic affairs in the School of Education at Johns Hopkins University. She has held appointments as professor and department chair at Johns Hopkins' School of Education, associate professor of counselor education at the University of Maryland, College Park, and assistant professor and director of the School Counseling Program at Brooklyn College of the City University of New York.
Professional colleagues have recognized her with many awards for outstanding multicultural/diversity research, excellence in teaching, and exemplar service. She served as a Faculty Lilly Fellow at the University of Maryland, and she was selected as an American Counseling Association (ACA) Fellow for her significant contributions in scientific achievement and teaching/training in counselor education. Because of her expertise in college advising and counseling, Holcomb-McCoy was selected to participate as a consultant to the Obama Administration's Reach Higher Initiative. In July 2014, she was one of the plenary speakers at the White House's Summit on Higher Education held at Harvard University.
Holcomb-McCoy says she's excited about the opportunity to transform the field of educator preparation in the years ahead. "What excites me most is the impact that our American University graduates will have on the lives of young people and their communities. The prospect of eradicating educational disparities and the uplifting of the profession of teaching keep me going each day.