Arts
AU Professor Wins Best Documentary Award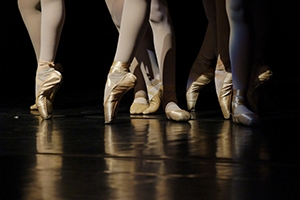 Denise Saunders Thompson is on a mission to bring more African American women dancers to the forefront of American ballet.  
Thompson, an AU arts management professional lecturer, was the subject of a recent profile in the New York Times, which featured her work to provide opportunities for women of color to win contracts with major American ballet companies. 
Thompson told the New York Times, "This is really a call to action for the ballerinas of color to show themselves; for the artistic directors, it's a challenge for them to do what they say they want to do." 
Much Work to be Done 
While Misty Copeland made history as the first African American female principal dancer with the prestigious American Ballet Theater, Thompson says that African American women still remain largely out of sight in American ballet. This has inspired her work to give these dancers the opportunities and recognition they deserve.  
Thompson recently hosted auditions in Denver for African American female dancers, giving them the opportunity to audition for multiple ballet companies in one location. "Eighty seven dancers traveled to audition in Colorado, and the top 15 top ballet companies in the United States sent representatives," she said. "It was about presenting new opportunities for these young talented dancers—summer programs and company positions were being made available to them. These organizations responded to a call from the ballet world to represent the female ballet dancer of color."  
Filmmaker and Advocate  
Thompson herself is in the vanguard of American dance and film. She was recently recognized at the San Diego Black Film Festival for her ballet documentary, Hamdan, Through the Gate of Tears: Backstage, which won the award for best documentary. The film focuses on a man's journey from his homeland of Oman to East Africa, and includes behind-the-scenes interviews with the choreographer, Ray Mercer, and Thompson, the stage manager. The Smithsonian National Museum of African Art presented the film's world premiere.  
"Hamdan continues to have a long lasting impacting far beyond I imagined," said Thompson. "The purpose of creating the film was to bring attention to the connection of Oman and East Africa. It has cultural connections and shines a light on how these two regions have supported one another for many, many years."  
Thompson is also chairwoman and executive director of the International Association of Blacks in Dance, which preserves and promotes dance by people of African ancestry or origin, and which hosted the recent auditions.