Science
Physics of Music a Hit on the Mall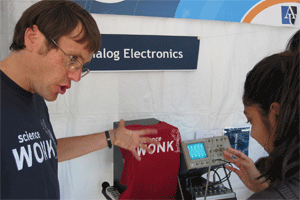 The American University Physics Department and Audio Technology Program combined to make sweet music on the National Mall during the inaugural USA Science and Engineering Festival October 23 and 24.
Throughout the picture-perfect weekend, thousands of school kids flocked to AU's booth, which demonstrated the physics of music.
"The point of the festival was to get people excited about science, and we definitely did that," said physics professor Nathan Harshman, who led the AU effort. "This was something that would appeal to everybody because everyone likes music. We have the only program like our audio technology program in the region, so only we could have done this."
AU's booth was manned by students, faculty, and staff. It had numerous hands-on activities, including Chlandi plates, which demonstrate the patterns of sound vibrations. When a speaker is used to drive it, the sound waves can be seen by sprinkling sand upon the plates.
The Chinese singing bowls also were a hit. Visitors could rub one, exciting its resonance frequency, and making large vibrations that cause water to spurt into the air. There also was an exhibit that allowed kids to sing into a Nintendo Wii to demonstrate that all sounds consist of waves.
"I wanted kids to be able to touch things," Harshman said. "It was an outstanding outreach weekend. I heard so many kids walking away from the AU booth saying, 'that was cool.'"