Department Spotlight
Speaking Their Language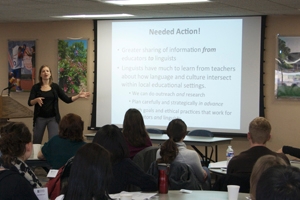 When a program has an almost 100 percent placement rate, it's tempting to look at its students to see what they have in common to understand that success. Here's a snapshot of a few alums and current students in AU's TESOL (Teaching English to Speakers of Other Languages) program.
Katie Leitch earned a 15-credit graduate certificate the summer before going to Mongolia as a Peace Corps volunteer. She liked the classes so much she enrolled in AU's master's international program to earn an MA, which she will complete in May 2013.
Erin Ross started the TESOL graduate certificate program at age 50 in 2012 to strengthen the depth of her knowledge of teaching to work with the immigrant community in Washington, D.C. Once she receives her certificate, she plans to apply for the master's program.
Jeffrey Buck graduates this spring with a master's in TESOL focused on adult English language teaching. He started the program after teaching English as a foreign language in Spain.
Rebecca Wilner, who earned an MA in TESOL in December 2009 after teaching abroad for several years, is now academic director of the Center for English Language Immersion in Panama City, Panama.
Michal Panner wanted the skills she needed to work with immigrants and refugees arriving in the United States. Her MA in TESOL, which she earned in 2012, gave her just that. She now works at the Center for Applied Linguistics in Washington, D.C.
There is, in other words, no common profile. What the students—and teachers—in AU's TESOL program share is a passion for teaching and the skills they need to master their field.
"The way our classes are structured, we don't assume any prior knowledge of linguistics or any prior teaching experience," said TESOL program director Polina Vinogradova.
Early on in the program students are taught the principles of linguistics and a sequence of three classes on English language teaching. They are also required to volunteer in area English for speakers of other languages programs through organizations such as the Montgomery County Literacy Council.
About 80 students are currently enrolled in TESOL programs at AU. Of that number, 27 are pursuing a master's in TESOL. A variety of programs is offered, from graduate certificates to master's programs. Students can begin earning graduate certificates while they're still undergraduates, and they can enter a BA/MA program. Master's programs offer a number of specialties, among them an MA in TESOL, a master's degree in teaching (in partnership with the College's School of Education, Teaching, and Health, it has the added attraction of leading to certification for teaching), and the Master's International Program, which helps prepare Peace Corps volunteers for their assignments. This program is the result of a partnership between AU and the Peace Corps.
Each summer, the program hosts an Intensive Summer Workshop that offers teachers a chance to learn new approaches to teaching English to speakers of other languages from leading scholars in the field. Students can earn a graduate certificate in TESOL at the Summer Institute.
Now in discussion, too, is the development of an online degree concentrating on teaching English as a Foreign Language (TEFL) and a residential MA program in bilingual education in partnership with SETH.
"My coursework helped me a lot in my time as a Peace Corps volunteer," said Leitch. "Maybe one of the biggest advantages was the fact that, after about a year, I got to work as a teacher trainer for the new groups of TEFL volunteers arriving in Mongolia. That was an amazing professional opportunity, one that I probably wouldn't have had if it weren't for my time at AU."
What do students who earn an AU certificate or degree in TESOL come away with?
In addition to a foundation in linguistic theory and teaching methods, they gain extensive hands-on experience through tutoring, volunteer work, and practicum teaching in local ESL programs, giving them a firm foundation to become successful teachers, said Vinogradova. 
"Students graduate with the ability to go into the classroom and teach and rely on historically developed methods and at the same time understand the needs of their students, to assess the needs of their students at the beginning and continue assessment whether formal or informal," Vinogradova said.
TESOL graduates can feel confident in any setting, whether they're working in a charter school or a community college or a school in Mongolia or Panama.
"If they come into an environment that doesn't hand them a syllabus, they have the tools and knowledge to sit down and do this type of materials development to produce a needs-based curriculum," Vinogradova said.