Class Notables
Sarah Brockett, CAS/MA '07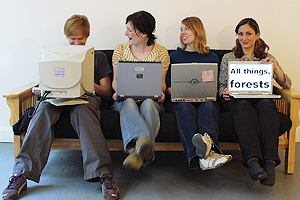 When Sarah Brockett first picked up a bass guitar, it was merely a prop for a Halloween costume.
"My older sister won a white bass guitar in a radio contest. I don't know if you're familiar with the music video for Robert Palmer's Addicted to Love [which features models playing a white bass], but it was just perfect," laughs Brockett.
How could she know that what started out as the perfect prop for an '80s-inspired costume would launch her own musical career? But these days, Palmer's not the only one on iTunes.
Brockett plays bass in the Brooklyn-based foursome Palomar, which has four albums to their name and another in the works. The indie-pop outfit, which is big in the Big Apple, is starting to make waves nationally, too, touring with the likes of Spoon and Mates of State.
"Playing with Palomar has been one of the most rewarding experiences of my life. These people are not only my bandmates, they're my family," says Brockett of the group, which also includes vocalist Rachel Warren, guitarist Christina Prostano, and drummer Dale Miller.
"I love that the band adds some diversity to my life," she continues. "It really is a great mental exercise to write songs."
When Sarah Brockett first picked up a bass guitar, it was merely a prop for a Halloween costume.
And Brockett should know about mental exercises.
She returned to school in 2005 to pursue her master's degree in public history at AU. "Living in New York, I really became interested in urban history, the way the streets are laid out, and the things people do to entertain themselves," she says. "The degree was the perfect outlet for that interest."
And while Brockett's class schedule in D.C. made band practice in Brooklyn a little tricky, especially since two of her bandmates also returned to school, Palomar made it work.
"Thank goodness for the Chinatown bus," she laughs. "I took that twice a month to New York for practice and shows. I would read my history books during the bus ride.
"Needless to say, there were days when I just wanted to pull my hair out!"
These days, though, life is a lot less chaotic. Brockett's currently shopping her degree around New York and eventually hopes to get into historical tourism. Things are going well for Palomar, too; the group continues to tour and is hard at work on their fifth album.
"I love both equally," says Brockett of music and history, "and I just can't wait to see what happens next."