On Campus
Three Juniors Compete for Harry S. Truman Scholarship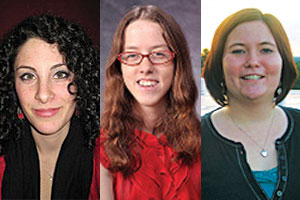 Juniors Lauren Barr (SIS/CAS), Emily Pfefer (SPA), and Kelsey Stefanik-Sidener (SPA/SOC) are one step closer to winning the prestigious Harry S. Truman Scholarship. All three of American University's 2010 nominees for this award have been selected as national finalists and will participate in final-round interviews on March 26, 8, and 23, respectively.
The Truman Scholarship, a federal memorial to America's thirty-third president, is awarded annually to 60-65 college juniors from across the U.S. Scholars receive $30,000 to pursue an advanced degree. They also participate in a summer institute with distinguished public servants and receive substantial career and graduate school advising.
Lauren Barr, a dual major in international studies and economics with a minor in Arabic, hopes to develop the skills and breadth of expertise needed to work on conflict resolution throughout the Middle East. She founded and leads an alternative break program to Israel and the West Bank and is an active student leader in organizations working toward international peace and conflict resolution.
Emily Pfefer, a dual major in political science and interdisciplinary studies (communication, legal studies, economics and government), plans to devote her career to helping women achieve greater equality in the workplace. She has held leadership roles in student government and university societies both in Washington, D.C., and in Oxford, England, and developed a strong interest in pay equity for women while interning at the American Association of University Women.
Kelsey Stefanik-Sidener, a political science major with a minor in communication, intends to pursue a career that combines public health, legal advocacy, and public policy. She has been involved in public health advocacy since she was diagnosed with type 1 diabetes at seven years old. Kelsey has raised more than $55,000 for diabetes research, started a diabetes advocacy organization called Minds over Meters, and served as the director of student health services for the Student Government.
"American University was named a 2006 Truman Foundation Honor Institution for good reason," said Career Center executive director Katherine Stahl. "AU attracts students whose life goal is public service and these three finalists exemplify the values of our engaged community."
The Truman Foundation permits each U.S. college and university to enter up to four students into competition per year. In 2010, it received 576 applications from 245 colleges and universities. Lauren, Emily, and Kelsey are among 176 finalists representing 122 different institutions, and AU is one of only twelve universities and colleges to have three finalists.
Nineteen AU students have become national finalists since 2005, including the 2010 candidates, and seven have gone on to become Truman Scholars. This year's scholars will be named in late March.