In the Community
All in for Nonprofits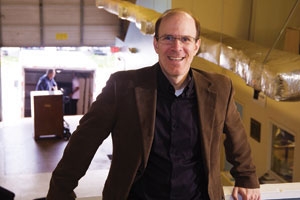 Mark Bergel has a simple formula for success as a nonprofit leader in tough economic times:
Work 16 hours a day, seven days a week.
Stay totally focused on your mission. (And forget about having a personal life.)
"I've got to be all in," says Bergel, CAS/MS '87, PhD '96, founder of A Wider Circle, a nonprofit organization in Silver Spring, Maryland, that collects and distributes furniture free of charge to poor people transitioning out of homeless shelters and places like women's crisis centers.
"We're talking about significant social change. It's about how do we end poverty. My role models in this are the people who created great social change . . . So I try not to get sidetracked into anything else."
Bergel founded A Wider Circle, which also leads workshops to help people escape poverty, about a decade ago while working at AU and ran it for several years along with AU students' help out of his Bethesda apartment.

Coping with Tough Times
During the recession, nonprofits seemed largely immune to the economic slowdown that bogged down for-profit companies.
"In some ways there was a delayed hit on the sector compared to the private sector," says Lewis Faulk, a School of Public Affairs professor who studies nonprofit organizations. While for-profit corporations were cutting back on jobs, nonprofits were adding them from 2008 through 2010 at about a 2 percent growth rate.
But that growth finally hit a wall.
Nonprofits employed 10.7 million workers in 2010, representing 10.1 percent of the workforce.
That workforce is also majority female: women make up 60 percent of nonprofit employment, compared with 40 to 50 percent in the for-profit and government sectors.
With nonprofits the nation's third-largest economic sector, trailing only retail trade and manufacturing — amounting to between 3 and 6 percent of the country's gross domestic product — how they're faring is important beyond the vital services they provide.

'Backbone of the Organization'
Even at organizations with increased operating budgets, few plan staff increases, according to the Nonprofit Research Collaborative. Sixty-five percent of nonprofits in the group's survey will either keep wages and salaries flat or decrease them.
With many organizations either freezing or slowing hiring, they have turned to a traditional source of help: volunteers. In 2010, 26 percent of adults, or 62.8 million people, volunteered to work either for or through an organization, about the same level as the past five years, according to the Urban Institute's National Center for Charitable Statistics.
Economic slowdown or not, volunteers have long been vital to organizations such as the Appalachian Trail Conservancy, where about 6,000 volunteers gave 230,000 hours of time last year to maintain trails with hedge trimmers, shovels, pick axes, and chain saws. Thirty-one clubs along the length of the trail take care of it.
"[Hurricane] Irene did a number on us in Vermont and New Hampshire and Pennsylvania and New York, just completely devastating sections of Vermont," ATC's Royce Gibson, SPA/BA '90, director of development, recalls. "We have hurricanes down here, ice storms," making volunteers vital to keeping the trail cleared.
Lighthouse International has about 1,500 volunteers, people, who board chairman Roger Goldman, WCL '69, describes "as the backbone of the organization."

Circling Back
Which brings us back to A Wider Circle, which had 10,000 volunteers last year.
In a whirl of fund-raising statistics and trends, focusing on the dedication of the people who do the vital work nonprofits perform helps put things in perspective. Three years ago Bergel, A Wider Circle's founder, decided to get rid of his bed, sleeping on a couch or on the floor of his apartment. He vowed never to use a bed again until every poor person in the country has one too. That decision hasn't been great for his health, he acknowledges, but it keeps him in touch, at least in a small way, with what it's like to struggle with poverty in a land of plenty.
"Our goal is to end poverty, to go out of business," Bergel says. "So I am not inclined to just provide a small service. I'm inclined to think creatively, come up with big solutions, and go raise the funds . . . We owe it to people who are born into poverty to make this the social movement that ending slavery was. That's what this has to be, it has to be a civil rights movement. It can't be less than that. Because if it's less than that then poverty will endure."