Television & Film
Unseen and Unheard: Documenting the Other Washington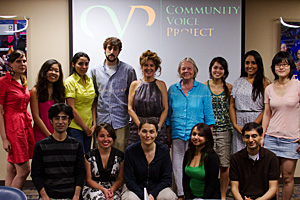 It was a red-carpet premiere with energy and buzz and nerves. Only there was no red carpet. Or glitter. Or limos. But, oh, the stars were out.
"I'm so excited, I'm shaking all over," said Jake Bush, a member of the Anacostia Rollers and Friends, who'd come all the way from South Carolina to share the limelight with his fellow skaters, featured in a video by students Peggy Fleming and Michael Sahl.
The April 26 program spotlighted seven short documentaries by anthropology and film students for the class Unseen and Unheard: Documentary Storytelling in the Other Washington,  taught by CAS professor and SOC filmmaker in residence Nina Shapiro-Perl.  Her course, together with Race, Ethnic, and Community Reporting, taught by SOC professor and journalist Angie Chuang, forms the foundation of the Community Voice Project (CVP), an experimental collaboration between the two schools.
The project, which breaks down boundaries between journalism, anthropology, and documentary filmmaking, "advances a more progressive and inclusive approach to storytelling," said Shapiro-Perl. Conceived by SOC dean Larry Kirkman, CVP joins several other university efforts to redefine how stories are told and create new models and media for journalistic storytelling, giving voice to undercovered communities, organizations, and issues.
For three months, students fanned out around the D.C. area to work with community partners — a Wider Circle, Caracen, the Community Council for the Homeless at Friendship Place, H. D. Woodson High School, and St. Elizabeth's Hospital. They documented the work of committed and passionate advocates. And they gathered stories of those who fall under the radar of mainstream journalism and, let's face it, of most of us: The homeless. The indigent. The immigrants. The physically disabled and mentally ill. And those who had the plain bad luck of being born with the odds stacked against them.
With running time no longer than 14.5 minutes, and as short as 5.5 minutes, the videos told extraordinary stories of ordinary people who were beating the odds through spirit and hope and faith. People like Carolyn Darley, who had something to say about hitting bottom and losing everything, even the ability to cry. "Crying is God's Zoloft," she said, speaking from a better place and now making art.
But if the videos were the focus of the night, the class and the Community Voice Project are as much about process as product, said Shapiro-Perl. In the process, unlikely paths converge and connections are made and change starts to happen.
"There's a lot of potential for genuine human connection when we actually listen to one another's stories — and share them too," said Charlene Shovic, MA '11, public anthropology. "Storytelling helps us realize our interconnectedness."
Media that matters. That's the mantra at SOC, said Pat Aufderheide, professor and director of the Center for Social Media. "At this point in our history, when we have so many capabilities to communicate digitally to connect to people, media that matters is media that is connected, that is collaborative, that is participatory. That's why we're so impressed with this model that Nina has brought to us, brought together in this room — the partners, the students, the professors — and the collaboration between SOC and CAS, especially with anthropology."
AU is known for its public intellectual activity over ivory tower thinking, Aufderheide said. "We think that what we're studying is done so that we can actually make the world a better place."
CAS dean Peter Starr said: "This is truly the DNA that's deeply embedded in American University — the commitment to the greater community, the nation, and to the world. Our students embody that commitment. And the students who've been working now through [seven] iterations of the Community Voice Project truly embody that more than others."
Among the stars on hand for the event, Larry Galloway of the Anacostia Rollers and Friends perhaps said it best: "[Telling stories] helps to inspire people to help others. And when you pass it to one person, another person get inspired, the next and next, 'til the whole world — every child, everybody who's homeless, everybody who's got God-given gifts to make others use theirs — the next thing you know, you have the whole six billion people working together. That's the dream I have for our planet."
He added, "I think it's a great connection with American University. And if this is successful, I think other universities will have the same thing, because we need to connect with the neighborhoods more. And this is a start here, a great start."