Mathematics
Your AU: Economic Research Drives Wallen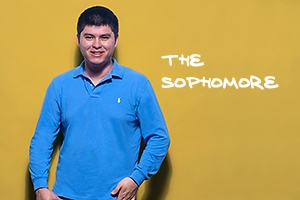 Jonathan Wallen's academic life has been forged by mentors.
First, there was the high school debate coach who took an interest in the high-achieving student and encouraged him to consider American University because of the institution's emphasis on the scholar-teacher ideal.
Then there was Assistant Professor Xuguang Sheng, a highly regarded econometrician who hired Wallen, then a freshman, to be his research assistant. 
Their project, for which Wallen was recently awarded an AU Summer Scholars & Artists Fellowship, uses "econometric analysis to assess how central bank policy reduces information rigidity in macroeconomic forecasts."
In addition to those mentors, Wallen has had other champions at AU. School of Public Affairs Associate Dean Margaret Weekes recommended Wallen for an advanced economics course last summer at the prestigious London School of Economics and SPA Associate Professor Douglas Klusmeyer asked the sophomore to be his teaching assistant for his Western Legal Tradition class.
"I have a really great relationship with a number of professors and it's happened in a very endogenous way," Wallen said. "The motivation for doing the work is the fact that I've had many good mentors throughout my life." 
As a youth who was often a foreigner, it makes sense that Wallen would seek out these connections. He was born in Sweden to a Swedish father and Korean mother. He spent his elementary years in China where his father worked in the telecommunications industry. In China, Wallen attended a British international school with students from all over the world.
YOUR AU: 'Eye on the Eagles' Freshman Host Soars
When he was in middle school, his family moved to the Dallas area and Wallen found comfort in academics. They were stable, predictable. He took an interest in math because it was a "universal language."
When he arrived at AU his freshman year, Wallen knew he wanted to study math, economics, and finance. He is now double majoring in math and economics with a finance minor. 
Because he is in the University Honors Program, Wallen has had access to smaller classes, which in turn has given him greater access to professors and has introduced him to like-minded classmates.
During his first semester at AU, Wallen met Sheng and the two hit it off. Wallen was intrigued by Sheng's research in economic forecasting and Sheng was happy to work with such an inspired undergraduate.
Every Tuesday, the pair meets to discuss data and results to plot where to take their research next. So far they have transformed numerous forecasting reports compiled by an economics survey organization into a working data set for analysis.
"We have a wonderful working relationship," Wallen said.
Wallen's collaboration with Sheng comes on top of a full course load this semester. His schedule is comprised of two 400-level classes and four 500-level classes, including Intro to Stochastic Processes, not a class that typically appeals to second-year students.
Wallen admits his course selection might have been a bit ambitious, but it's part of his plan to finish his major coursework by the end of this year so that his next two years can be spent pursuing independent study. Research is really what drives Wallen.
"I believe in active learning, not just classroom learning," he said.
While he still has two years left at AU, Wallen is already planning his post-college life. He sees graduate school in his future, and then hopefully a career that combines his math and economics skills with his international background, perhaps in the field of risk management.
That's where he wants to turn his research attention next — risk. In the past decade, risk has been a major focal point in financial literature.
"This area has serious, real-world applications. It's fast-moving and there's a lot of scholarship around it," Wallen said.
Until he enters the real world, Wallen will just have to be satisfied with continuing his research at American. He has some ideas percolating that he wants to pursue and he is staying in Washington, D.C., over the summer to continue his research with Sheng.
His advice to students coming to AU is to develop connections with faculty and get to know their research. Hopefully, that legwork will yield a professor interested in mentoring a student.
It worked for Wallen, who is getting to do more academically because of his dedication than many upperclassmen.
"College has succeeded my expectations," he said. "I had some ideas about research projects I wanted to do when I came here, but I never knew they would develop so quickly."
This article is the second of a four-part series called, "Your AU." The articles detail the experiences of American University students during freshman, sophomore, junior, and senior year.