Alumni
Music Man With a New York Vibe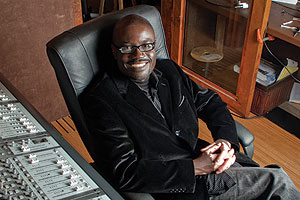 It's hard for John Wineglass to beat the night of his first Emmy.
He didn't just go home with a statuette. He went home with a daughter, who was almost born right there on Times Square at the elegant Broadway venue filled with celebrities.   

They weren't too many blocks from the television studios on West 66th Street where the show for which he writes music is filmed. It's a television icon: the soap opera All My Children, where he once had an internship that turned into something more. Now he was at the Emmys, and his wife was so excited when his name was called she didn't notice she'd gone into labor.

They went straight from the ceremony to the hospital, though they did not, as it happens, take the advice of fellow Emmy-goer Martha Stewart to give the baby the obvious name. Still, Wineglass, CAS/BA '94, now has many Emmys in the house—three, in fact, out of seven nominations in the last nine years. He'll be at the Emmys again on August 29, hoping to take another walk on the red carpet.

Careers in music are notoriously hard to establish. But Wineglass writes music for television serials, MSNBC, independent films, and even the U.S. Army. He's played on Broadway and before every U.S. president since Ronald Reagan.

He's glad he followed the advice of his AU professor and pursued his music to New York City.

A D.C. Kid

The Big Apple had always been part of his plans, but at first, the goal was Wall Street. Somehow, though, he couldn't escape the pull of music.

It had been pulling him since he was a child. Wineglass was seven when he sat down at the piano in his family's northeast Washington home and plunked out Beethoven's Moonlight Sonata.

By ear.

Without piano lessons.
It's the kind of thing a mother notices. Soon she was on a quest to find the right instrument for the boy with perfect pitch so he could join the D.C. Youth Orchestra, which she realized, with motherly savvy, was not in need of another pianist but had a lot of other instruments in its ranks.

Could he play the flute? No, his arms were too short. A saxophone? He didn't have the air. A clarinet?
The muscles in his seven-year-old jaw weren't strong enough.

After a year of trying out instruments, he picked up the viola. "It really resonated with me," he recalls. Not only did he love the sound, but it gave him a chance to sit in the center of the orchestra, surrounded by other instruments. "The second oboes were right behind me," he says, "so I knew what they were doing harmony wise. The second violins were right across."

In the long run, his experience in the center of the orchestra would train his ear and imagination and be crucial to becoming a composer. For the time being, though, something else was on his mind: the D.C. Youth Orchestra gets to go abroad.

"That was my reason for practicing, 'cause I wanted to tour," he laughs. "I saw the orchestra and my older counterparts, and they'd go away for a month or so over the summer. I thought, 'This'll be great.' So I practiced hard from the time I was eight years old. I really took it seriously."

Which is how the boy from D.C. had already been to South Korea, Spain, Yugoslavia, China, and the Soviet Union before he ever applied to AU.

Business Plan

But even though the draw of music was so strong that his idea of a fun game was to turn his cousins into his "orchestra" and compose pieces for them to play, he still didn't see that music would be his life. Wineglass came to AU on a scholarship to Kogod School of Business, double majoring in music composition just for the fun of it.

Fortunately for music, "I was a B minus, C plus student when it came to business courses. I loved it—macroeconomics, microeconomics, statistics—and it was cool, but I always felt the tug of music. When I left Kogod, it meant I lost the scholarship money. That was huge. But my parents knew I had to follow my heart.

"Somehow my mom looked on the board of the D.C. Youth Orchestra, and there was a scholarship to AU for music. I remember her looking at the posting and saying, 'Hey John, there are some scholarships available at AU if you want to switch your major.'

"It was a defining moment for me."

But Wall Street was still calling. The 1994 music graduate applied to graduate school at John Hopkins University, still meaning to go into business. "I was set to go that whole track, go to Wall Street and make money, but at the last minute
I thought, 'I can't do this.'"

So he went to his mentor on the AU faculty, composer and music professor Haig Mardirosian, and asked what fields would be good for a musician to study if he also wanted a shot at paying the rent. It was Mardirosian who let him know that degrees exist in scoring for music and television. There aren't many, and most are just certificate programs. But New York University had a master's degree.

That's how the D.C. native finally left for the Big Apple, where an internship led to All My Children and, in time, to independent films, documentaries, and the Emmy Awards.
A Composer's Life

The way a composer works differs from project to project. For soap operas, "sometimes it's a particular scene they want, and they'll send me footage. But most often, I'm supplying music as the composer to the show, and they take it and edit is as they want. They say, 'Just write a bunch of moods.' Pondering. Danger." It's then edited into the right scenes.

Wineglass also composes periodically for independent filmmakers, working on short films and other projects, and has scored a number of commercial films for clients that include the U.S. Army and American Red Cross.
The need to be closer to Hollywood studio work prompted him to move out West with his family four years ago—not to Los Angeles, but to scenic beachfront Monterey, four hours up the coast from Hollywood. Much of his work is still New York-based, though, and he sends his music electronically to his New York City colleagues and flies there often for meetings and to pick up the energy of the streets.

"I'm a New York purist," he says. It's a different scene: "more creative films, more of an independent scene, more substance. L.A. has the big films with the gynormous budgets. New York is really that gutsy, artistic, very learned vibe for the film industry. Usually when you see a film that has that dynamic substance and it's an indie, it's something shot or produced in New York. The L.A. folks, they recognize that pedigree as well.

"There's an energy in New York City. You walk around the city and there's a lot of adversity. Life is not perfect. In L.A., you hang out in Hollywood and everyone is glammed out, and everyone is pretty. Hollywood is what it is. But New York has a vibe."