In the Community
U.S., Mexican and Canadian Dignitaries Discuss Democracy, Elections and Human Rights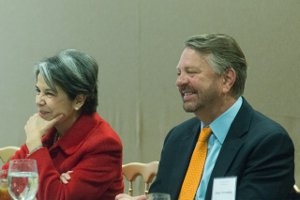 Speakers addressed the issues of reforming election protocols in Mexico, the need for strong leaders to overcome political polarization within North America, and the importance of Canada, Mexico and the United States working together more closely in two panel discussions that followed a luncheon honoring SIS Professor Robert Pastor on March 5.
The two panel discussions were: "Democracy, Elections and Human Rights" and "The North American Community." Participants included: Assistant Secretary of State for Democracy, Human Rights, and Labor, Mike Posner; former Foreign Minister of Mexico Jorge Castañeda; former Prime Minister of Canada the Right Honorable Joe Clark; and former President of Panama Nicolas Ardito-Barletta.
Professor Abe Lowenthal of the University of Southern California said, "We need to recognize the importance of Mexico and our shared interests and responsibilities without generating dependence and instability. How can we train the future leaders of these countries?"
Speaking on the lack of cooperation between the U.S. and Canada, Professor Stephen Clarkson of the University of Toronto said, "The U.S. is building walls - electronic, bureaucratic and economic walls, so it's harder for goods to cross through."
While the political opinions of the experts differed, all speakers began their remarks with praise of Pastor and his scholarship, and they all agreed with Lowenthal, who said that Pastor, "thinks creatively, tenaciously and frankly. He has contributed immensely to academics."