Research
PhD Student Plothe Gets "Big Bang" Out of Gaming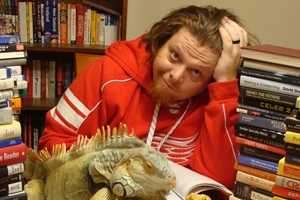 Theo Plothe, a School of Communication PhD student, is not only an avid "gamer," but also an academic pursuing the concept of what makes video games so enticing to today's society, as well as gaming's power to change opinions, lifestyles, and beliefs. It's not a frivolous topic: the video game industry is nearly worth more than the music industry and Hollywood's income combined, with its last annual income totaling $24 billion.
One of Plothe's recent projects examines the representation of gamers and gaming culture on one of television's most popular shows, The Big Bang Theory. Plothe looked at how the characters on the show identified with their avatar as if it were an extension of themselves, rather than just a character in a game.
"The characters merge their identity outside the game with their avatar. They talk about things as if they are actually in the game," he explains. "Using subculture theory, I explain how show represents gamers as outside of popular culture, unable to reconcile the virtual world with real. It plays with the notion that video games are immersive, which is one of the things that make them different from other forms of media."
Plothe was recently invited to present his paper, "'I'm a rogue night elf, don't you people read character descriptions?': Avatars, gaming and The Big Bang Theory" at the 43rd annual Popular Culture Association conference in Washington D.C. He appeared on a panel with other professionals who examined the impact of video games from different perspectives.
Other major conferences Plothe has presented at include work on videogames and convergence at the Association of Internet Researchers conference in Manchester, UK last October, and on NFL players and their use of Twitter at the Sixth Summit on Communication and Sport in Austin, TX in February.
"Going to these conferences is important because now I have these friends and connections in all of these cool places, and I also get the opportunity to see what different people are doing," says Plothe. "Networking with other scholars will also open up publishing opportunities which we know is of great importance."
Being able to channel his interest in video games into an area of study in the PhD program is important to Plothe. SOC has an accelerated doctoral program, with a duration of just three years, as opposed to the standard length of 5-6 years. The intense focus of the program, according to Plothe, benefits students mightily, focusing their work and research, and requiring a passionate devotion to their research as a result.
The faculty at SOC was also a factor that drew Plothe to the program.
Assistant Professor Deen Freelon, who specializes in analyzing online content and behavior, has proved to be very influential in Plothe's work.
"Deen is absolutely a mentor. He is one of the reasons that I came here, and AU is very lucky to have him," says Plothe.
Plothe argues that the influence of video games reaches far beyond just entertainment. He points out that games that teach math or English can make learning more fun while still being challenging. The future of video games is promising, says Plothe, and one that deserves attention at a university level.
"So far there are only about a dozen game programs throughout the country," he says. "Schools are going to have to create game programs in order to remain competitive."
SOC recognizes the importance and potential of gaming, and is teaming up with AU's College of Arts and Sciences to launch an academic center on persuasive gaming at AU. Initial faculty hires are underway.
Associate Professor Laura DeNardis, another faculty member in the PhD program who is also involved in the gaming initiative, praises Plothe's achievements and dedication to his academic pursuits.
"Video games and digital remix culture are becoming a dominant media for the formation of individual identity and communicative expression," she says. "Theo's research shines a much-need analytical light on this growing area."