Business
Professional MBA Student Named Standout Employee at Rising D.C. Company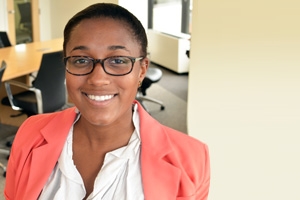 It can be difficult to stand out in a company with more than 1,400 employees, especially when that company is one of the hottest up-and-coming companies in D.C. But, Briana Evans has managed to do just that.
Evans, MBA '15, is a senior enterprise marketing associate at Cvent, an industry leader in the meetings and event management software market. Since she joined the team just two years ago, she has become a vital resource at Cvent.
In 2013, she was named "Top Performer for Enterprise Sales," and was nominated for both "CVENTer of the Year" and Cvent "Game Changer."
"I was really excited about these nominations because I was nominated alongside other staff who have been here much longer," said Evans. "It was an honor and very humbling."
Out-of-Class Connections
Evans's ability to stand out among her peers also shows in her role as a student ambassador. Executive-in-Residence Jill Klein, faculty program director for the Professional MBA, selected Evans for the role based on her leadership skills.
"Briana sparkles. This must be what [her employer] sees in her as well. When she commits to something, she commits to it completely," Klein said.
As an ambassador, Evans gives prospective students an insider's look at the PMBA experience—often telling them her initial assumption about graduate business school culture was wrong.
"I assumed in the part-time program I might not make connections [with other students], because everyone has work, families and personal lives," Evans admitted.
"But it is really refreshing to see that people bond with one another by getting together outside the classroom."
Her peers in the cohort regularly spend time together outside of class, meeting after work and attending barbecues or parties at one another's homes. Some students even spent their day off from class together during spring break.
"In the long run the most beneficial things for my business [school] experience is the sense of community and supported I feel from everyone here," said Evans.
Committing to an MBA
Evans joined Cvent after graduating in 2011 from the University of Virginia with a double major in foreign affairs and anthropology. After working in the sales department for a year and a half, she was ready for a change.
"I wanted a deeper understanding of business," she said. "[My current] position opened up a couple of months after I got accepted at Kogod, now my job goes hand in hand with what I'm learning."
While considering graduate schools, Evans said she paid special attention to the overall "feel" of the school. After shadowing classes, talking to current students and observing student-teacher relations, one thing stood out about Kogod; the community.
"The students [at Kogod] had a [deeper] bond and connection with one another than I'd ever seen at a business school," she said. "Everyone wants to do well, but everyone also wants you to do well, and that is evident."
Global Goals
Looking ahead, Evans plans to take part in Cvent's international program. Employees from the U.S. office are sent to their India office to bridge the culture gap between the two. She thinks this would combine her undergraduate degrees in anthropology and foreign affairs with the skills she is developing in the PMBA program.
"I work with colleagues from the India office on a regular basis, so it gives us a chance to get to know each other," Evans explained.
"Being able to continue traveling and understanding different cultures is very important to me, but now I can add business to that."