District Notes: City Sounds from Metro Music to Go-Go
By Sarah Stankorb
May 9, 2012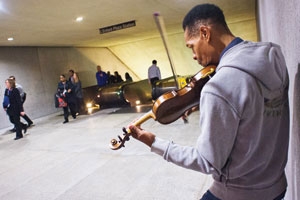 What is the sound of a city?
In D.C., there's the whoosh of cars on the Beltway and the ping as Metro doors open and shut. It's the droning schmooze of Hill staffers after hours at local dives. But it's also U Street's storied jazz history. It's bucket drummers outside the Smithsonian or street musicians' steel guitars in Chinatown.
For students in CAS professor Shalini Ayyagari's class Music Cultures of Washington, D.C., the sounds of the city have become a crash course in ethnomusicology and the rhythm of their urban home.
Street Music is about: Blurring Lines
Colin Wick '14 is a sax and clarinet player from Seattle. Back home during the summer, he and a few friends would jam around Pike Place Market. Unlike playing in an orchestra under bright stage lights, there his audience was close. He could see their reactions immediately, could tell if they were having fun. "You feel a lot closer to your audience when you play on the street," Wick said.
Ayyagari's class gave him an excuse to explore street music more seriously. Students develop an ethnomusicology project in D.C., conduct interviews, connect their observations to larger research questions, deal with the practical matters of consent forms, and schedule at least five interviews with their subjects.
In Wick's case, this meant tapping into the community of musicians that play the soundtrack for Washington's morning commutes. There was Raycurt Johnson, a violinist and vocalist who plays as a community member in AU's symphony orchestra. Johnson can also be found at Friendship Heights and L'Enfant Plaza Metro stops.
Wick happened upon a guitarist at Metro Center whose sound drew him and who became a part of his study. There's a trumpet player who frequents the Friendship Heights stop and a bucket drummer who can be found at Gallery Place–Chinatown.
These folks can really play. "I want to debunk the myth that street musicians are homeless or in some way inferior to musicians that play in more traditional venues," said Wick. He knows that passersby see a can or guitar case set out for tips and often assume the players are down on their luck, and in need of financial aid.
What Wick has seen instead, from the perspective of the musicians, is people stopping in their morning bustle to clap their hands and dance. He saw an Express distributor sing with Johnson. A bucket drummer noticed someone on the street who was really into the beat and handed off a pair of sticks. Together, musician and man-on-the-street played a five minute impromptu duet.
For his final project, Wick hopes to use a Google map of the Metro system and overlay information about the musicians who play there, what they think about playing on the street — plus a short recording of music and ambient soundscape that Wick has gathered with condenser mic and computer.
D.C.'s Own Funk Derivative: Go-Go
Unlike Wick, Allie Martin '14 grew up in the metro area. Raised in Prince George's County, she heard Go-Go on the radio, mixed in with other types of hip-hop and R&B. It wasn't until high school that she realized Go-Go was not everywhere, but "only in the DMV [District, Maryland, Virginia]."
For non-D.C. natives, it's important to clarify that Go-Go has nothing to do with girls in high, white boots. Ayyagari explains that "it's a music genre that's unique to D.C. It came about in the 1970s, and it's kind of a crossover of hip-hop and funk."
Think funk. Then imagine what you'd do to keep that beat going. "It was created to keep people on the dance floor during a live set," said Martin. "Instead of completely stopping the music between songs, the beat remains constant throughout. It's called Go-Go because it doesn't stop."
Go-Go has evolved from a percussive beat that kept things rolling to improvisation, call-and-response, and heavy interaction with audiences. But at its core, according to Martin, is still that beat. "If you strip a song of all of its melodic components, that's all you're left with," said Martin in her podcast. She breaks down local band Mambo Sauce's 2007 hit "Welcome to D.C." Under the vocal track, keyboard, guitar, and yes, cowbell, there is that essential, trademark Go-Go beat.
For Martin, "The best part of this experience is realizing that I have so much to learn about something I considered myself an expert in only months ago."