In the Community
Middle States: Steering Committee Reviewing Draft Chapters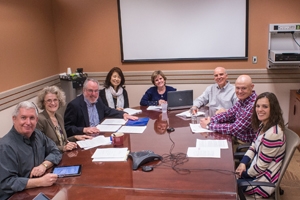 American University is continuing its engagement in a comprehensive self-assessment that is required for the university to renew its accreditation.  
This self-study is a look inward by a committee representing constituent groups on campus to determine what the university is doing right and what it can improve upon.
The self-study process for Middle States Association Committee on Higher Education accreditation begins with seven subcommittees, including the self-study steering committee. Each subcommittee is tasked with drafting a chapter addressing its respective focus areas: Advancing and Supporting AU's Mission; Leadership, Shared Governance and Administration; Faculty; Admitting, Supporting and Retaining Undergraduates; Undergraduate Education; Graduate Education; and Educational Initiatives: Addressing the Changing Nature of Higher Education.
This current stage of self-assessment will soon culminate in the completion of draft chapters from the subcommittees, said Karen Froslid Jones, director of the Office of Institutional Research. Each of the chapters will include two to three suggestions for how to improve aspects of the university.
"We want recommendations that are important and feasible that AU needs to make progress on," said Robert A. Blecker, professor of economics and co-chair of the steering committee with Jones.
As the draft chapters have been submitted, Jones said, the steering committee has been carefully reviewing them to ensure that accreditation standards are adequately addressed. The steering committee has also been analyzing various questions of strategic importance to the university that were flagged in the design for the self-study, which was approved by Middle States last year. 
The steering committee is reviewing subcommittee suggestions for recommendations and the committee will ultimately decide on a set of recommendations to be shared with the AU community as part of the draft document.

"We're really making sure we have all the evidence we need and that the document as a whole is coherent and flows," Jones said.
That editing work will take place over the summer and by the end the steering committee aims to have a final draft of the self-study report ready to present to the university community in the fall. Then faculty, staff, students, alumni, and other members of the AU community will get a chance to comment on the draft document before the report is finalized, which should happen by January.
Part of the accreditation process is a site visit by an assessment external evaluation team. AU's site visit is scheduled for March 23-26, 2014, and will be led by Eric Spina, vice chancellor and provost of Syracuse University.
"I think we're in a pretty good place now and we're pleased with the progress that's been made," Jones said. "But we recognize there's a lot of work ahead."
To find more information regarding the accreditation process, visit AU's Middle States website.