Liberal Arts
Inaugural Clendenen Conference Offers New Perspectives on Women's history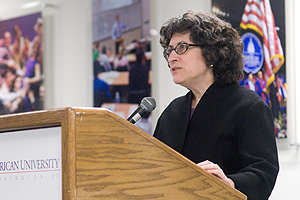 When Kathy Peiss was preparing for her oral boards as a doctoral student at Brown University in the late '70s, her reading list included every book written on women's history.
"And that was the last time I could honestly say that I had read everything," laughed Peiss, a leading scholar of women's history at the University of Pennsylvania.
Over the last 30 years, the field of women's and gender history has flourished, said Peiss, who delivered the keynote address at the Department of History's inaugural Patrick Clendenen (grandfather of early donor Mary Graydon) Conference, last Tuesday.
For centuries, women were "hidden from history," she said. "If the original goal [in the 1970s] was to write women's history, then we've succeeded on many fronts."
The two day conference, "With Vision Flying: New Perspectives on Women's and Gender History," showcased the latest scholarship from AU professors and alumni. Researchers presented papers on topics ranging from Jewish women in postwar suburbia to the diaries of nineteenth-century farm women in New England.
On Wednesday, Cindy Gueli, an adjunct professor at AU, discussed her research, which centers on the place of "government girls" in World War II Washington. This "lipstick brigade" was composed primarily of single, white women in their early 20s with a sense of patriotic duty and a thirst for adventure. At the height of the war, Gueli said, these women made up 40 percent of the government workforce in Washington, earning about $1,440 per year ($17,090 in 2007 dollars).
"Exploring the city became a priority for the women," many of whom hailed from small town America, said Gueli. "If the weather was nice, you could find 100,000 people in Rock Creek Park enjoying a concert."
Though many Washingtonians "weren't so sure what to make of the government girls," the military men who found themselves in D.C. on leave were simply in heaven.
"A guy had to be dead not to get a date in wartime Washington," laughed Gueli.
Although the majority of government girls returned home after the war, Gueli said they "opened a space in Washington for the career woman."
"Government girls didn't permanently shatter boundaries for women working in Washington, but they did stretch them a bit," she said.
Cosponsored by the Department of Women's and Gender Studies, the Clendenen Conference demonstrates AU's "longstanding commitment to issues of diversity and inclusiveness," according to College of Arts and Sciences dean Kay Mussell, who spoke Tuesday night.
"Just reading this program reminds me of all the ways AU has nurtured women's and gender studies," said Mussell, who expressed "enormous gratitude to the women and men who laid the foundation."