On Campus
Filmmaker Stone, AIDS Activist Jones on Campus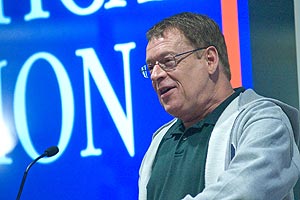 Oliver Stone, the Oscar-winning director, was in one room speaking with a history class.
Across the hall was AIDS quilt founder Cleve Jones, a man known to many from the Oscar-winning film Milk.
Two newsmakers in their fields, two lecture halls in the same building, a single time period. It was a striking if unplanned example of the opportunities AU students have to learn from leaders.
Stone came to AU, as he frequently has over the years, to speak with history professor Peter Kuznick's classes about his controversial historical films, which have included J.F.K., Platoon, Nixon and W. This time he also discussed the documentary series he is creating with Kuznick, so his visit to Washington served a double purpose: meeting with students, and meeting with Kuznick on their collaboration.
Kuznick is cowriting episodes for Oliver Stone's Secret History of America, a documentary series for Showtime that is intended to cast an alternative light on history by focusing on under-reported events and perspectives.
"Peter and I . . . take some facts you learn in school and twist them around to say, 'Think of them this way.' So we're not disagreeing with facts," Stone said in response to a student's question. "But the [usual] narrative is a myth, from Columbus to right now."
At some points, students were treated to a behind-the-scenes view of their collaboration, as in the moment that Kuznick turned to Stone and said, "When I gave you my episode about Ronald Reagan, you said to me, 'Peter, can't you find a single . . . positive thing about him? But the atrocities he was doing around the world were horrible."
"Yeah," said Stone with a grin, "but he was a great actor."
At a Kennedy Political Union talk across the hall, AIDS activist Jones captivated students with war stories about the battle for gay rights, his work with assassinated politician Harvey Milk, and the nightmarish impact of AIDS. Jones was also instrumental in the creation of Milk, and many students knew him as the young street kid mentored by Milk who developed into a community activist.
In a voice still filled with emotion, he spoke of Milk's assassination in 1978 and the horror in the 1980s as AIDS swept the gay community. Imagine, he told the students, if everyone in this room was a friend you'd known for years, worked with, or lived with. Then imagine that everyone died but you
"By 1985, almost everyone I knew was dead or dying."
Jones, too, learned early that he was HIV-positive, and though he didn't initially fall sick, he believed it was a death sentence.
The quilt grew out of the need to recognize the lives of the people who died of a disease then so shameful that, even in the gay community, many wouldn't initially write the full names of their late friends on a memorial. 
The quilt was his vision of a way to counter that, but it was hard, at first, to find support. "Without exception, everyone told me it was the stupidest thing they ever heard of — too expensive, too complicated, no one will do it," he said.
It ultimately swept the nation and became a powerful symbol of the epidemic. Jones, infected in 1977, finally became ill with AIDS in 1992, but was fortunate to be one of the first people to try what is now known as the "cocktail" of AIDS drugs that has saved countless lives.
But while it's now undetectable in his body, the virus is still there and can mutate, he said. Fifty to 60 percent of new cases are drug-resistant, he said, so young people mustn't feel blasé about HIV-AIDS.
It was a sobering message, but also uplifting. Young gay people no longer grow up feeling that there's no one in the world like them; there are no longer police raids; and full civil rights for gays and lesbians may well be around the corner.
"So don't ever doubt that things change," he said. "Things change when ordinary people demand it."