Arts and Culture
AU Benefactor Dr. Cyrus Katzen, Dies at 91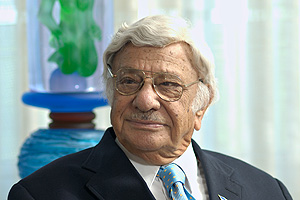 American University lost a key member of its community when Cyrus Katzen passed away on July 12.

The arts patron made a lasting impact on AU and Washington, D.C., with the opening in July 2005 of the Cyrus and Myrtle Katzen Arts Center, which gathered much of the arts at AU under one roof and quickly became a Washington landmark. The center stands by the entrance to the university, announcing its commitment to the arts to all who pass by.

Katzen's wife, Myrtle, a painter, took classes at AU and came to appreciate its art department and the community of artists she found through the university. From this fondness sprang a strong relationship and the generous lead donation for what is the beloved Katzen Arts Center.

The ebullient art lover was a familiar sight at the building that bears his name, chatting with students and enjoying the lively activity in the state-of-the-art center that he made possible.

"Cy once told me that all the thanks he ever needed was sitting somewhere in the arts building and watching the students' faces as they passed by," said AU president Neil Kerwin. "Cy's wisdom was reflected in knowing that what he saw in those faces was the excitement of being in a space that inspires them."

Kay Mussell, dean of the College of Arts and Science when the center opened, recalled the  lively spirit that fueled his generosity.  "I will miss his keen sense of humor, his wonderful stories, his love of the arts, and his gift for joyful living, which he shared with all of us," she said.

"He not only changed the arts at AU, he changed AU," said Jack Rasmussen, director of the AU Museum at the Katzen.