Alumni
Investor or Explorer? Financier Uses Cultural Immersion to Drive Investment Decisions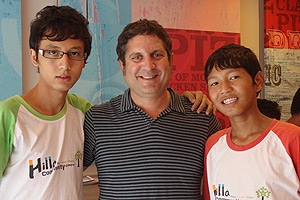 From snapping Polaroids with people on the streets of Jakarta to working with Afghan refugee students in Kuala Lumpur, Robert Levitt, MBA '86, gains his best insights on foreign investments firsthand.
As the founder and chief investment officer of Levitt Capital Management, Levitt uses the insights he gains from immersing himself in a country to decide where to invest.
Since earning his MBA, Levitt has traveled the world searching for investment opportunities, spending months at a time on the ground to truly see supply and demand in the local market.
"I try to look at the world by meeting the people of a country and learning what their aspirations are, because that's what I want to invest in," he said.
Levitt's company, which is headquartered in Boca Raton, Fla., currently employs eight individuals, but may expand to 11 before the year's end. Since opening in 2000, LCM has served US investors seeking global investments.
"Learning about a people and their culture and needs is like learning to swim; you can read all you want, but you don't really know what you're doing until you get wet—and in my career I've decided to get really wet."
As an example, Levitt offers a recent trip to Jakarta. Instead of spending his time in a four-star hotel, viewing the city from a picture window, he took to the streets, talking with everyday people about what impacts their daily lives.
By pounding the pavement, he uncovered that public transportation is practically nonexistent in Jakarta. Almost everyone saves up to buy a motorbike to get to work.
"I heard that and it was an 'Ah Ha' moment," Levitt said. "I knew then I wanted to invest in the motorbike company."
Profit and Purpose
Levitt's unique approach to international investing stems from an interest in other cultures that began when he was a child in New Mexico. After seeing stop signs written in Spanish on a family trip, Levitt knew he wanted to be involved with the world beyond his "provincial" hometown.
In recent years, Levitt has focused his attention on Southeast Asia, particularly Malaysia and Indonesia.
"It's so interesting to me, personally...it's just so different from the American experience and the privileged world of my childhood, where kids had to go to school instead of got to, like it is for the children I see [in Malaysia.]"
In addition to investing in traditional products, Levitt invested in a Malaysian school, the Hilla Community Centre, for Afghan refugee children.
"This school has had a huge impact on the lives of these children, many of whom would never have been allowed to go to school in their native community," he said.
True Immersion
As Levitt has traveled the world, he's made an effort to become part of the community wherever he is, a step that opens many doors, he said.
"Typically, foreign investors don't do anything for the country itself, it's unheard of, and becoming part of the community and getting to know people makes a difference," he said.
"Working with schools and other groups has gotten me access to all kinds of influential people, from ambassadors to billionaires to royalty, all of whom are more likely to help with projects like the school because they see the interest is coming from a real person."
For Levitt, the work he's able to do within the communities he visits is far more valuable than any investment.
"The best part of my life isn't what I do for myself, that's not what makes me happy; it's what I can do for others."
Global Perspective
Levitt's advice to Kogod students: Learn a new language (or four), and think beyond the American horizon.
"Staying on top of global changes and trends is going to be key, ...students need to be prepared to compete on a global level and learn to look at life from a side they might not be used to."