International
SOC's Sina Weibo Team Up Close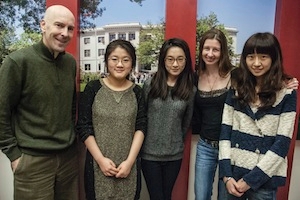 Since 2000, the number of international schools in China has increased by a factor of fifteen to 338 from 22. Similarly, the number of Chinese students studying abroad has also increased dramatically. According to the Institute for International Education, Chinese student enrollments in U.S. undergraduate academic institutions has increased by 31 percent and by 23 percent for undergraduate and graduate institutions combined over the last decade. 
Location, reputation and connections draw students from China. So how do prospective students make their choices? Data shows that the U.S. educational system can be confusing for international applicants. To help Chinese-speaking applicants navigate the application process, American University's School of Communication (SOC) Graduate Office has launched a Sina Weibo account to help meet the needs of social media savvy Chinese speakers on this popular microblogging site.
Three Chinese graduate students maintain the Weibo account: Dongyu (Julia) Li, Lulu Wang, and Yiyi (Murphy) Yang. Each of these students has varying levels of experience in the U.S. at the undergraduate level and came to SOC for different reasons.
Julia came to the U.S. for her undergraduate study at Marietta College. She applied to 5 schools and was admitted to four.  She was eager for a challenge.  "I wanted to further my education in the U.S. and to eventually get a job here." By attending a small, liberal arts college, she really found a niche for herself early in her undergraduate study. Deciding to come to American University represented a big change, but Julia did not hesitate. 
"D.C. is a big city. It was hard to transition from a small community to D.C., but you can't stay in a comfort zone. You have to challenge yourself. You have to hold yourself to high standards to help you transition to the career you want," says Julia. The strategic communication program at SOC was attractive. "At AU you can take advantage of the D.C. location. There are so many possibilities for jobs, you can study communication marketing, strategic communication and media relations."
Lulu attended an undergraduate degree program in China at Shanghai Ocean University—a university that offers a cooperative program with a university in Australia. According to Lulu about half of the 200 graduates in her field went on to pursue graduate degrees in Australia. Of the group approximately five students decided to study in the U.S.  The program at Shanghai Ocean University also offered opportunities for students to pursue internships in San Francisco and attend seminars at the University of California, Berkeley. Lulu was excited about opportunities in the U.S. and served as an intern for two consecutive summers at Oddball Film and Video during her undergraduate study. After her brief stay in the U.S. Lulu knew she wanted to come back. So why AU? "I wanted to go further with academic study and AU is one of the best strategic communication programs in the U.S. ranked in the top 5 by PR Week. My parents also called friends at the Chinese Embassy in D.C. to confirm this."  
Of course there are many challenges for an international student in the U.S. "One requirement of the PR industry is strong writing skills and I continue making progress here." There are challenges, but also many memorable experiences. and when asked to offer some thoughts on life in D.C. and how she has tried to take advantage of the location, Lulu said, "I went to the presidential inauguration. I wanted to see President Obama, but there were a lot of people and I was too short." Ultimately, says Lulu, "I want more U.S. experience before returning to China."
Murphy attended Beijing Jiaotong University for her undergraduate degree and decided to complete a semester abroad in Washington at AU's Washington Semester Program. "I wanted to see the world and experience the American education system." Before coming to D.C., Murphy knew that the credits she earned at AU would not count toward graduation requirements at her home institution, but she was determined.  
"When I was a senior I decided to go to the Washington Semester Program at AU because of the great opportunities for internships. I worked in Voice of America's development department for new media training. It was a great program, I met lots of international students, made great friends and had field trips around Washington." Murphy spoke to the Washington Semester faculty about her graduate school options and Professor Gil Klein told her about the journalism program in SOC that is a one-year MA program. This was very attractive because Murphy knew she wanted a one-year program.  "I applied to British schools, but it was not until after getting the offers from the British schools that I decided to go to an American school. In mid-February I still had to take the GRE and apply. I was happy that there was still time to apply at AU. It was a logical choice. I was already here at AU and I knew it was a great school. AU provides jobs and internship opportunities and it's easy to integrate into D.C. and of course it's DC—a great place to study journalism. " Murphy encourages other international students to "integrate into American society and American culture. You have to be proactive to make the most of the experience."
Julia, Lulu and Murphy come from very different academic backgrounds and different parts of China, but all three are happy that their work in maintaining the SOC Weibo account will ease the transition to AU for other international students and bring about greater awareness of SOC's student culture. Julia offers this piece of advice, "You should really take advantage of your time in the U.S. because you don't get the same experience in China or other places."