Literature
Twain Was Here: Melissa Scholes Young Publishes Debut Novel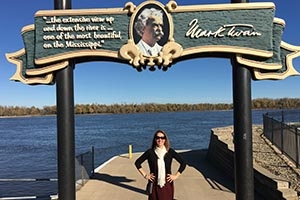 Melissa Scholes Young grew up in Hannibal, Missouri. If Hannibal doesn't ring a bell for those outside the Show Me State, it was the boyhood hometown of Mark Twain. The presence of Twain—fabled storyteller, fountain of wit, American icon—still permeates this 18,000-person Midwestern town.
Scholes Young used Twain and Hannibal as background for her debut novel, FLOOD. And her story explores the hidden layers of Hannibal, and by extension, Americana. She's noticed that Hannibal has had a closer attachment to Twain's The Adventures of Tom Sawyer than his more lauded classic, Adventures of Huckleberry Finn.
"Costumed Tom Sawyers and Becky Thatchers stroll our Main Street, but I always wondered where Huck and Jim were. In FLOOD, I wanted to understand the mythology of the stories we choose to tell and the ones we don't," says Scholes Young, a professorial lecturer in the Literature Department at American University.
The Way the River Flows
Like tributaries of the great Mississippi River, the inspiration for FLOOD came from several sources. In 1812, a series of earthquakes along the New Madrid fault line caused the Mississippi River to run backwards for several hours.
"I read accounts of that harrowing event from witnesses on the shoreline, mothers in boats with their babies, and historians trying to explain it all," she says. "The idea of recalibrating, of needing to run in the wrong direction to survive, and of how floods destroy but also make fertile ground, was the beginning of my writing FLOOD."
She was also working on a story about Samuel Clemens, a.k.a. Mark Twain, leaving Hannibal. In addition, she was writing about a female friendship between Laura Brooks—now FLOOD's main character—and her best friend, Rose. All these threads came together to form FLOOD.
The novel takes place between 1993—the year of a real-life catastrophic Missouri flood—and 2003. Fearing a stifling future in her hometown, protagonist Laura flees Hannibal. She eventually returns for a brief high school reunion, but her trip is complicated by emotional baggage and a secret about the '93 flood.
"I was interested in what happens if she had to actually retrace her steps, and go back and relive some of the tragedy of what happened during the flood," says Scholes Young.
As Laura is pulled back to her hometown, the "Mississippi flowing backwards" metaphor is not lost on Scholes Young. It's the type of literary device that surfaces in class discussions, when AU students ask her if an author's metaphor is intentional.
"In my case, I usually find it takes an agent or an editor to point out the very obvious thing that I'm doing. And then it's your job as a writer to go back and make it more explicit, and implicit at the same time," she explains. "When I first read that passage about the Mississippi running backwards, I couldn't have imagined that it's a novel. But it just stuck with me."
Hometown, U.S.A.
Similar to millions of Americans, Laura departed and returned to her childhood community. This reflects the thorny relationships people have with their hometowns.
"I think we misunderstand our roots. We think you have to leave to succeed, and I don't think that's true," says Scholes Young. "One of the transformations that Laura goes through in the story is realizing that the people who choose to stay are really digging into their communities. They're choosing to invest their future in making it better."
Likewise, a town itself must grapple with its own identity. In 2013, Hannibal opened a museum called Jim's Journey: The Huck Finn Freedom Center, which is connected to the Hannibal African American Life and History Project.
"That's the first time that Hannibal has really acknowledged a history of slavery. And Mark Twain was raised among his family's slaves," she says. "I think we're just starting to be brave enough to wrestle with that history."
Scholes Young expounds on why she thinks Huck Finn is less celebrated than Tom Sawyer in Hannibal. "We have a Tom and Becky contest every year. It's a national contest, and this is in my novel as well. That's the America we want to talk about," she says. "Hannibal's tourism industry is built around Mark Twain's boyhood home. The Adventures of Tom Sawyer is a novel about adolescence. It's more family-friendly for America's hometown."
Going Home Again
Scholes Young mostly writes about rural and small-town communities. FLOOD may be a work of fiction, but it's relevant for a nation struggling with a rural-urban divide. "I think there is a lot that both populations don't understand about each other and are too quick to dismiss," she notes.
A first-generation college student, she's maintained strong ties to Hannibal. Now she's going home again for some book-related events: There's a June 27 book signing at Left Bank Books in St. Louis, a reading and discussion at the Hannibal Arts Council, and another talk at the Mark Twain Boyhood Home & Museum.
Her book is not autobiographical, with no real names but a few real places. So far, she says, people in Hannibal have been excited about the novel.
"I wanted FLOOD to be an affectionate portrait, but I also needed it to be true. Characters are lovely and flawed. So are settings," she says. "We're all complicated people, so I would expect our hometowns and our characters to be complicated as well."
*To learn about books that shaped Scholes Young's writing, click here.