Research
OSP and GCA Honor 2012-2013 RAC Graduates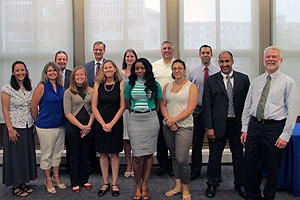 The Office of Sponsored Programs (OSP), in conjunction with Grants and Contracts Accounting (GCA), recently hosted a ceremony and reception honoring those American University staff who successfully completed the inaugural session of the Research Administration Certification (RAC) program.
Introduced last fall, RAC is a training and certification program intended to support departmental and school/college level staff who hold management responsibilities in research administration and/or grant/contract development. This 8-session program covers a range of topics including: proposal preparation, research compliance, financial management and reporting, applicable regulations, policies, and guidelines – all with the purpose of empowering participants to more effectively administer sponsored awards. To successfully complete the program, participants were required to attend all sessions and pass all quizzes.
A certificate of completion along with a personal letter of congratulations was presented to the first 21 graduates on August 7, 2013. Their participation in this program not only demonstrates their dedication to their positions at AU, but also highlights their level of effort given the time it took to complete RAC.
Congratulations to all our 2013 RAC graduates:
Colette Abichaker
Heidi Abraham
Holly Bennett Christensen
Bill Brown
Neelum Buttar
Jill Clarke
Sacha Conley
Stefanie Drame
Joseph Gesa
Lela Gant
Kris Higgins
Beth Jones
Lindsey Lash
Heather Michelle Mattern
Kanako Mori
Kristi Plahn-Gjersvold
Jacqueline Palumbo
Jan Post
Cathy Samuels
Marvette Smith
Danielle Sodani
We wish all of our RAC graduates the best as they continue to enhance and develop their professional careers here at AU and look forward to once again launching RAC for the upcoming 2013-2014 academic year. View more information about the certification program on the OSP webpage.