Achievements
Dr. Elizabeth Cotter Promoted to Assistant Professor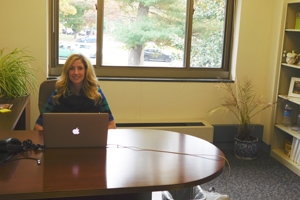 Dr. Elizabeth Cotter, who was hired in 2013 as a term faculty, is a well-known professor in the Department of Health Studies and luckily for the students and faculty, she won't be going anywhere soon! Dr. Cotter was officially promoted to the position of Assistant Professor.

Working with college students is a familiar task for Dr. Cotter. She completed a predoctoral internship at the University of Maryland Counseling Center, providing counseling services to college students. This internship was the last step in receiving her PhD in Counseling Psychology in 2011 from the University of Wisconsin Milwaukee. Dr. Cotter loved the east cost and completed her postdoctoral research at the Virginia Commonwealth University. In this research fellowship, she coordinated a large-scale obesity prevention study.

Obesity interventions have continued to be her research focus, as she currently focuses her projects on culturally tailored obesity and eating disorder interventions. Recently, she received a grant from the Aetna Foundation, to implement a culturally-relevant program for families living in affordable housing communities. The intervention focuses on nutrition education, parental stress management, and community gardening components.

Dr. Cotter has plans to continue research in obesity interventions. The next task for her is to set up a randomized controlled trial, examining an intervention that incorporates stress reduction with standard of care obesity interventions more rigorously.

When she is not teaching her students or working on her research projects, you can find Dr. Cotter practicing yoga or reading her favorite book. She also is spending some time learning Spanish.  

The Department is excited to continue to work with Dr. Cotter. She loves working and collaborating with her colleagues. Moreover, she loves sharing a passion for health with her students. As one DHS student, Olivia DiBasio, put it, "Dr. Cotter is one of the most caring and motivating professors I have ever had."