Arts and Culture
Art Provides Window into Serbian Life During Miloševic's Era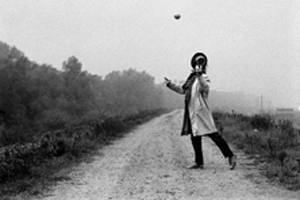 It was the summer of 1989.  The end of the Cold War was sounding the death knell for communism and as a result, Serbia and Montenegro were on course to become the new Yugoslavia. The art exhibition Yugoslav Documenta, then on display in Sarajevo, would become the last major exhibition of Yugoslav contemporary art as Slobodan Miloševic seized power.
Miloševic launched a new era of war, ethnic cleansing, economic sanctions, and a decline in all aspects of daily life in the country once known as Yugoslavia. In Serbia, two parallel worlds emerged: a dominating world of warmongering and nationalist ideology, and a world of marginalized opponents.
Miloševic did his best to quash the voices of those he oppressed, but artists continued to express themselves even though between 1989 and 2001 virtually no one saw their works.  During that time, the Museum of Contemporary Art in Belgrade became a passive tool of nationalist ideology and was effectively closed to ambitious, contemporary art.
Now, the works reflecting those troubled, controversial years are being shown to the world through On Normality: Art in Serbia, an exhibition organized by the Museum of Contemporary Art in Belgrade.  The exhibition, curated by Dejan Sretenovic, will be at the American University Museum at the Katzen Arts Center from Tuesday, May 5, through Friday, June 5.  
Many of the artists whose works are in the exhibition are internationally renowned, including Raša Todosijevic, Milica Tomic, Škart, and Biljana Djurdjevic.