Business
MS Taxation Program Among Top Ten for Second Year in a Row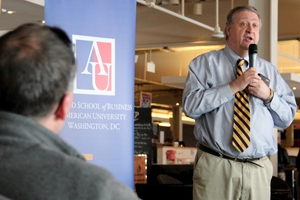 National publication TaxTalent has named Kogod's Master of Science in Taxation (MST) one of the top ten such programs in the country for a second year in a row. The MST is No. 9 on the list for 2014, up one spot from No. 10 in 2013, according to the annual survey completed by corporate tax executives.
"This shows that our reputation as a respected program is growing among a key demographic," said Professor Donald Williamson, faculty program director for the MST. "I really feel this positively reflects the quality of our students, they're the stars of our program."
The only program of its kind in Washington, D.C., the MST provides students the opportunity to study current taxation issues at the heart of where policy is made—guest speakers often include members of Congress. Students also benefit from the institutional knowledge at the Kogod Tax Center, a research facility dedicated primarily to taxation issues for small businesses and middle-class Americans.