Science
Forecasting Space Weather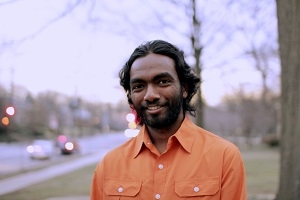 When he was young, Dhanesh Krishnarao, BS physics and mathematics '14, took a family vacation to Disney World and to nearby Kennedy Space Center. That's when he fell in love with space and astronomy. 
Now Krishnarao's dream job is to be an astronaut, but he's taking it one step at a time to get there. Last summer he began an internship with NASA in the area of space weather forecasting. "These forecasts can predict the sun's effects on Earth and its magnetic field, among other things," he says, all of which is helpful information for NASA robotic missions, the military, and the government. 
Last fall, he teleworked on his internship project from AU. This semester, he is traveling to NASA's Goddard Space Flight Center in Greenbelt, Maryland, one day a week to work on a new project: observing solar flares. "I always had an interest in astronomy," he says. "Space weather wasn't a focus until I started at NASA." 
It was U. J. Sofia, physics professor and associate dean of research, who recommended Krishnarao for the internship. "What's particularly exciting about Dhanesh's experience is that he was able to bring back [to AU] skills that he learned at NASA. He is applying them to an astrophysics research project in my field that he is working on for his honors capstone," says Sofia. "It's the perfect scenario when a student brings knowledge learned at AU to an internship—and then the expertise gained from the internship back to AU." 
The internship has broadened Krishnarao's network of contacts, which will likely be helpful to him in the future for things like "advice on graduate schools and internships." 
But he also has nothing but praise for the physics department at AU. "It's a small department, but we have really great faculty," he says. "I feel like we're all friends." 
Krishnarao entered AU as a physics major, but he picked up math as a second major because, he says, there's a lot of overlap between the two subjects. "It's particularly relevant because I'm interested in going to graduate school for something related to astrophysics." 
And the deeper Krishnarao delves into astrophysics, the more he finds there is to discover. "It's nice to look up at the sky and realize that I have some idea of what's going on up there—but also that I have no idea about what's going on," he says. "There's so much that we don't know."