In Remembrance
Dignitaries Discuss Legacy of Shimon Peres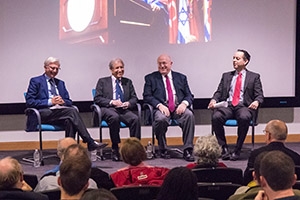 Members of the AU community filled the McKinley Theater to pay tribute to the late Shimon Peres, former Israeli President, Israeli Prime Minister, and Nobel Peace Prize laureate.
A roundtable discussion featured former Israeli Foreign Minister Shlomo Ben-Ami, former US Ambassador to Israel Daniel Kurtzer, and SIS Professor Guy Ziv, author of Why Hawks Become Doves: Shimon Peres and Foreign Policy Change in Israel. The AU Center for Israel Studies (CIS), AU's School of International Service, and the Kennedy Political Union hosted the event.
Shimon Peres and American University
"President Peres holds a special place in our hearts at AU, where he received an honorary degree on May 10, 1998 at the College of Arts and Sciences, and delivered our commencement speech. On that occasion he inaugurated the United States' first Center for Israel Studies here at American University," said AU College of Arts and Sciences Dean Peter Starr in his opening remarks. "His devotion to peace and cooperation and human dignity around the world remains an inspiration to our campus and community."
Starr introduced the founding director of the Center for Israel Studies, Professor Emeritus Economics Professor Henry Wachtel, who shared his recollections of Peres's 1988 visit to American University and his role in inaugurating AU's Center for Israel Studies.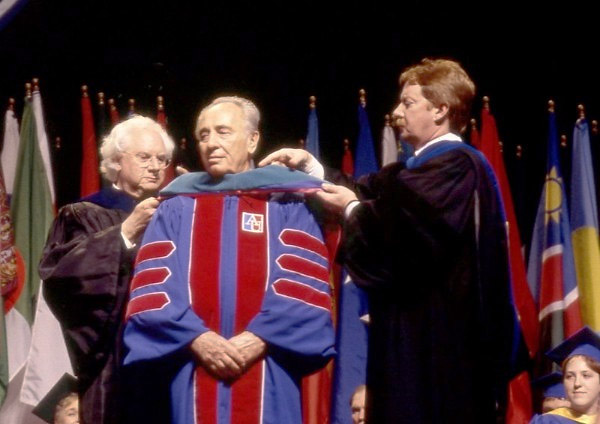 Shimon Peres receiving honorary degree at AU in 1988.
Remarks and Roundtable
The three guest speakers were introduced by Michael Brenner, the Seymour and Lillian Abensohn Chair in Israel Studies and director of the Center for Israel Studies. Ben-Ami, Kurtzer, and Ziv each shared their personal recollections of Peres as a man and as a world leader. They described a complex man, a "man of contradictions," whose views evolved through time. Their remarked ned Peres's 70-year political career, his role in building Israel's military infrastructure, his role as an early proponent of settlements, his shift from hawk to dove, and his dedication "to creating a safe, strong, and vibrant Israel."
"I will remember Shimon Peres as a man dedicated to the good of Israel … who understood that Israel could serve as a beacon for a better Middle East," said Kurtzer.
Ben-Ami pointed out that Peres was neither hawk nor dove, but rather "a security guy until the last moment." He described him as a combination of a doer and a visionary, "a dreamer and a good executive who woke up and got to work executing the dream."
Ziv spoke Peres's legacy, first as a major contributor to Israel in the security realm, second as a champion of peace, and third as a leader who exerted tremendous influence on the political landscape of Israel, despite a series of political losses. "He was able to help transfer Israel from a weak and isolated country to a strong nation that could defeat enemies," he said.
More about the Speakers
Kurtzer served as US ambassador to Egypt during the Clinton administration, and was the US ambassador to Israel from 2001–05 during the term of President George W. Bush.  In 2006, he retired from the State Department and the US Foreign Service and assumed a chair in Middle East policy studies at the Woodrow Wilson School of Public and International Affairs at Princeton University.
Ben-Ami received his PhD at Oxford University. He was appointed Israel's Minister of Public Security in 1999 and Foreign Minister in 2000. He participated with Prime Minister Barak in the Camp David Summit, after which he led the Israeli team in all phases of the negotiations with the Palestinians. His latest book is Scars of War, Wounds of Peace: The Arab-Israeli Tragedy. He is a founder and current vice president of the Toledo International Center for Peace, as well as the 2016 Visiting McGovern Professor of International and Public Affairs at Columbia University.
Guy Ziv is an assistant professor at American University's School of International Service, where he teaches courses on US foreign policy, the Middle East, and international negotiations.  He also is founder and director of the Israel National Security Project, a repository of statements by Israeli security experts concerning the strategic imperative of a two-state solution to the Israeli-Palestinian conflict. His current research focuses on foreign policy decision-making, the influence of think tanks on US foreign policy, and the role of political elites in the Arab-Israeli conflict.