Director of AU Museum Named Chair of Maryland State Arts Council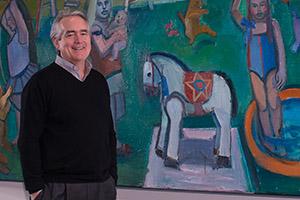 Jack Rasmussen, director and curator of the American University Museum at the Katzen Arts Center, has been named chair of the Maryland State Arts Council (MSAC). In this role, he will drive the strategic direction of MSAC programs and funding for the state of Maryland.
"I am excited about participating in the Maryland State Arts Council's strategic planning process so that we may better ensure the arts are accessible to all the people of Maryland," Rasmussen says. "I am very fortunate to live in a state that supports the arts so strongly. Maryland is fourth in the nation in per capita government spending on the arts, or $22.7 million in direct grants. I am happy to do anything I can to support this great effort on behalf of artists, arts organizations, and the people of Maryland."
The American University Museum
At American University, Rasmussen manages the largest university-affiliated art museum in the Washington metro area. The museum, which encompasses three floors and a sculpture garden at the Katzen Center, features a permanent collection highlighting AU's Watkins Collection and The Rothfeld Collection of Contemporary Israeli Art, in addition to the Alper Initiative for Washington Art, which was established in 2014.
Under Rasmussen's leadership, the museum has recently been offered nearly 9,000 works from the Corcoran Art Collection under one of the largest free art distributions in US history. The proposed acquisition will include works by history's most masterful artists including Pablo Picasso and Rembrandt. Other prominent artists include 16th-century Italian painter Titian; German Renaissance painter and printmaker Albrecht Durer; American artists Winslow Homer, John Singer Sargent and Andy Warhol; 18th-century British portraitist Thomas Gainsborough; and French Impressionist Charles Francois Daubigny.
Jack Rasmussen
Rasmussen earned his MFA in Painting, MA in Arts Management, and MA and PhD in Anthropology at American University. He worked at the National Gallery of Art before becoming the assistant director of the Washington Project for the Arts when it opened in 1975.
He opened Jack Rasmussen Gallery, one of the first commercial galleries to move to downtown Washington, and then helped launch Rockville Arts Place (now VisArts). He served for ten years as the executive director of Maryland Art Place in Baltimore and three years as executive director of di Rosa, a contemporary art museum and sculpture garden in Napa, California.
Rasmussen has been director and curator of the American University Museum at the Katzen Arts Center since it opened in 2005.