Discover CAS Week Draws Hundreds of Prospective Grad Students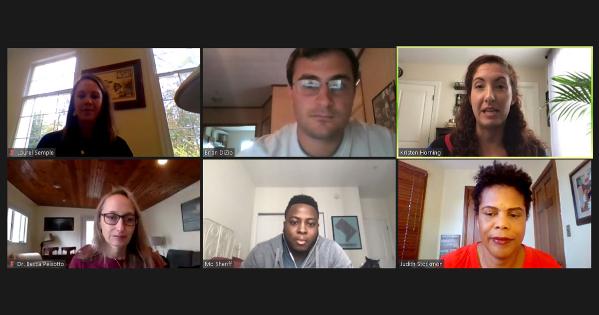 Several hundred prospective grad students attended this year's virtual Discover CAS Week, a jam-packed exploration of graduate programs offered by American University's College of Arts and Sciences.
They had opportunities to explore individual graduate programs and degrees, meet the dean and faculty, attend tutorials on financial aid and the application process, learn all about careers, attend Q&A sessions with current grad students, and much more.
"I had an amazing week," said one prospective student. "All the hard work the staff had put in really paid off, especially for this to be a virtual event. I felt this week had strengthened my reasons for applying, and I can't wait to meet you all next fall semester!" Another student said, "I especially appreciated the webinars with students and faculty. Especially in the time of COVID, it was nice to see some new faces and hear about the school and program from the experts."
Why Grad School Now? Why AU?
"With limited opportunities to invite students to campus right now, we felt it critical to create a series of events where students could sample CAS programming and get a feel for American University culture," said Assistant Dean for Graduate Enrollment Judith Stockmon.
Stockmon was delighted by the turnout. "The nearly 300 registrants for Discover CAS Week exceeded our expectations, which shows us that prospective students believe that now is an ideal time to build their skill sets and prepare to enter the job market as more competitive candidates because they've earned advanced degrees."
College of Arts and Sciences Interim Dean Max Paul Friedman described some of the practical reasons for attending graduate school. Among College of Arts and Sciences master's degree graduates, 95 percent are working or in graduate school (or both) within six months of graduation. He shared some of the top employers for CAS grad students, including the World Bank, Department of Labor Statistics, National Gallery of Art, National Institutes of Health, National Science Foundation, United States Army, Peace Corps, Department of Defense, Department of Homeland Security, DC Public Schools, US Congress — and many of our nation's top universities, where CAS graduates work as faculty and administrators.
Friedman also described the things that make CAS graduate students stand out. "Our grads tend to be collaborative and supportive students who cooperate with one another, who are sociable, who share notices of grants or jobs, who provide one another citations and read each other's work, not only during their program but for years afterward," he said. "And they are an idealistic group. In a way, they are fulfilling what Albert Einstein described as the true purpose of education: 'Sometimes one sees in the school simply the instrument for transferring a certain maximum quantity of knowledge to the growing generation," he said. "On the contrary, the aim must be the training of independently thinking and acting individuals, who… see in the service of the community their highest life problem.'"
The Many Parts of AU
Other highlights of Discover CAS Week included AU's Humanities Truck presentation about the fully customized delivery truck that serves as an experimental mobile platform for collecting, exhibiting, preserving, and expanding dialogue around the humanities — in other words, it literally drives the humanities across DC. The presentation showcased how graduate students are still working (safely, following all Covid precautions) across local neighborhoods, collecting oral histories.
American University's groundbreaking Anti-Racist Research Policy Center, which generates scholarly research, educational tools, and policy analysis geared towards dismantling racism in its many forms, shared all the ways that students can get involved with the Center moving forward. It also shared its new interdisciplinary faculty affiliates list.
The Life in DC panel spoke about how Washington, DC, is still alive and well despite Covid. Students shared their experiences getting housing, navigating a new city, and their favorite DC places. And Assistant Director of Graduate Recruitment (and author) Jonathan Harper gave a popular talk on best practices for writing a Statement of Purpose, something that is often seen as the most difficult and frustrating part of an application. These "best-of" tips included how to make applicants stand out to AU faculty.
What to Do Next
If you missed this fall's Discover CAS Week, it's not too late. You can learn all about how to apply on the CAS Graduate Admissions website.
"This spring, we plan to create similar opportunities for prospective students to connect with the College," says Stockmon. "Late Spring will include a Destination CAS series of events to keep prospective students excited about enrolling in CAS graduate programs."