Arts
Love, Post-Apocalypse Style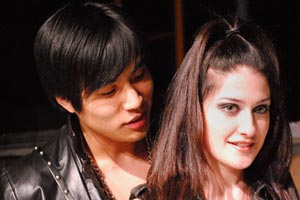 The Department of Performing Arts will present a bold new take on William Shakespeare's Romeo and Juliet at the Harold and Sylvia Greenburg Theatre from February 11–13.  
Director Carl Menninger has set the story in a dark, post-apocalyptic world fueled by sex, ambition, and violence. While their families battle ruthlessly for power, Romeo and Juliet become infatuated with each other at a rowdy party. As the impetuous teenagers' sexually charged desires evolve into a deeper emotional connection, they exploit irresponsible adult figures in order to legitimize their relationship—but with tragic consequences.  
"I view the play as a very suspenseful story. There's an eerie quality to it," says Menninger. "It's sort of a cross between a thriller or a horror movie and a romance."  
Carl Menninger is director of the Theatre, Music Theatre and Dance Programs at American University. As a director and playwright, Menninger has worked in numerous theatres in Boston and Chicago and he has directed or choreographed over 150 productions. Last semester's The Hot L Baltimore was his most recent production at AU.  
For additional information and tickets for these performances, please visit http://american.tix.com/.