Science
New Joint Engineering Program with Columbia University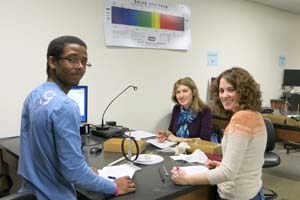 American University now offers students a joint degree program in partnership with Columbia University's Fu Foundation School of Engineering and Applied Science. 
Students will spend three or four years as full-time students at AU, followed by two years as full-time students at Columbia Engineering. They will graduate with a BA from AU in the natural sciences and a BS in a specific engineering major from Columbia University. 
"We are delighted to partner with Columbia University on this project," said Peter Starr, dean of the College of Arts and Sciences. "The Combined Plan program offers our students a wonderful opportunity to combine a liberal arts education with professional training in the field of engineering."  
A Winning Partnership 
Columbia's Combined Plan program is the first dual-degree engineering program in the United States. American University joins more than 100 colleges and universities that are already Columbia Combined Plan affiliates.

The partnership is natural fit for American University, said Nate Harshman, chair of the AU department of physics. "Engineering is a discipline that takes cutting edge ideas from science and turns them into action and service. Many of our students want to acquire the knowledge and skills to have an impact, and engineering offers the possibility of doing that in a rewarding career full of real world problem-solving."  
Teresa Larkin, associate physics professor and director of the dual-degree engineering program, said there is already a lot of interest in the program from current and prospective AU students. "We have already started advising students about our affiliation with Columbia," she said. "It is a fantastic recruiting tool for STEM programs at American University. But more than that, it gives our students an opportunity to receive two degrees on their resume, instead of one. It quadruples the number of opportunities for them in terms of graduate studies, internships, and jobs." 
How it Works 
Students will apply for admission to the program during their studies at AU. The program officially begins in fall 2015, but all current AU students are grandfathered if they meet the admissions criteria.  
Applicants must complete foundational and major-specific prerequisite coursework. The pre-engineering requirements include courses in the natural sciences, mathematics, statistics, and computer science. Applicants must have a minimum overall GPA of 3.30, as all as a minimum grade of 3.0 on their first attempt in all science and mathematics prerequisite coursework. They must submit recommendation letters from the Combined Plan liaison, a science instructor, and a math instructor.
For More Information 
For more information, contact Teresa Larkin, Director, Dual-Degree Engineering Program in Affiliation with Columbia University's School of Engineering and Applied Science, at tlarkin@american.edu, or visit the Columbia Combined Program website.