Achievements
CAS Students Complete American Economic Association Program Yamillet Payano and Britni Wilcher discuss prestigious AEA program.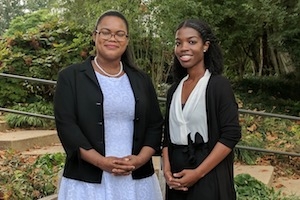 Last summer, Yamillet Payano, an American University senior graduating with a BS in Mathematics and Economics and a minor in Mandarin Chinese, and Britni Wilcher, a fourth-year PhD student in the Department of Economics, attended the American Economic Association (AEA) Summer Training Program at Michigan State University. The program works to increase diversity within economics by providing mentorship and an intensive two-month training program to talented undergraduate students looking to pursue a PhD.
As a student in the program, Payano took first-year PhD core economics courses and wrote an empirical paper studying the effects of gender and race on police citations. Payano says she appreciated being surrounded by talented women, who tend to be underrepresented in the field, and hopes to one day pay it forward. She is looking not only to get into a PhD program, but to one day become a professor and research international trade with a focus on China.
Wilcher, who is an alumna of the summer program, attended as a teaching fellow for an econometrics course. She described the experience as "paradigm shifting" by giving her a new perspective on the teaching aspects of academia. Not only did the program provide her with valuable teaching experience, but it also allowed her to serve as a mentor to passionate undergraduate students. Wilcher believes that the program's networking opportunities will assist her as she pursues her research in health policy.
Economics Professor Mary Hansen is serving as Wilcher's dissertation advisor and advised both Payano and Wilcher to apply to the prestigious AEA summer program. Payano and Wilcher were extremely thankful for Hansen's mentorship and guidance. We congratulate Payano and Wilcher on their fantastic accomplishments and look forward to seeing what is next for them!